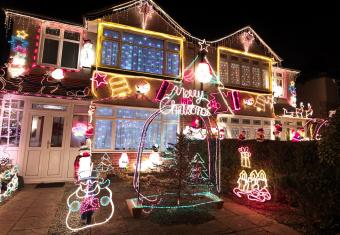 Animated Christmas lights add a little more flash and cheer to your holiday decorations. Many have the option of playing your favorite Christmas songs synchronized with a spectacular light show.
Where to Buy Animated Lights
Animated lights typically use the lights themselves to animate a portion of the main figure. However, you can also buy a few light figures that have animated, moving parts, too.
Lori's Lighted D'Lites
Lori's Lighted D'Lites sells and creates wire frame light displays. You can also have a design custom made to your specifications. The options below are all available in M5 LED or mini incandescent lights.
The 3 Piece Lollipop Train with animated smoke is 28" tall x 66" wide and costs about $310 with free shipping.
The Fishing Santa Animated light shows Santa pulling up a fish he caught. It's 55" tall by 46" wide and cost about $260 with shipping calculated at checkout.
The Holiday Light Store
The Holiday Light Store features a huge inventory of animated outdoor lighted Christmas decorations. The company occupies over 3,000 square feet of Christmas yard art and outdoor holiday decorations. Some of these include Santa helicopter, star, bell, and many more animated characters and scenes. Price range is large and varied.
Animated Yoyo Elf is 37" tall and comes with a three-channel controller for around $235 plus shipping fees calculated at checkout.
North Pole Firehouse Scene is a 3-piece set. The firehouse is 14' W and 8' H. The elf manning the hydrant is 42" W and 35" H, and the fire truck measures 79" W and 40" H. The cost is around $1,850 plus shipping fees calculated at checkout.
Action Lighting
Get the most out of your animated light display with a rope lighting solution from Action Lighting. Not only can you find a wealth of other types of animated lights, you can also find all the equipment you need to make it all come together.
Christmas Ringing Bells in LED rope lighting can be hung indoors or outdoors. Lights are attached to a strong metal frame. Cost is around $390 with shipping fees caculated at checkout.
This 19" LED Snowflake can be animated with a "twinkle effect" or changed to have a "steady burn". Suitable for indoors and outdoors, you may wish to display it on your front porch or in a window. It's priced around $53 for no twinkle and $55 for twinkle with shipping calculated at checkout.
The 3D LED 4 foot Showmotion Tree is available in blue, multi, or white lights. The tree is 24 inches wide at the base, four feet high, and comes pre-programmed with an animated light show for around $120 with shipping fee calculated at checkout.
Animated Lighting
Animated Lighting offers several solutions for home owners wishing to have an "awe factor" light show. Most of their products can be purchased on an individual basis or as a complete set with controllers, additional light structures, and music.
Animated Wreaths start at a four foot diameter and end at a 12 foot size; smaller sizes are best for the sides of homes. Pricing starts around $695 and goes up to $4,100 with shipping calculated at checkout.
Animated Candy Canes are over five feet tall and three-dimensional, complete with white and red stripes. These can be bought individually or as a full package with a controller. Individual canes are around $300 and a complete package costs about $3,000 with shipping fees calculated at checkout.
Brilliant Christmas Light Shows With Music
Additions such as music and synchronized software really amp up outdoor lighting displays.
Control System Options
Purchasing a control system is the best way to get started with creating a full display.
Mr. Christmas Outdoor Lights and Sounds from Mr. Christmas an all in one system and includes 20 holiday songs. The system features a synchronized lighting effect with the music through an onboard speaker. The system is only 8 1/2" wide. It's priced around $120 with free shipping when purchased through Amazon.
Light-O-Rama's Residential Series 16 Channel Starter Package turns your PC into a command center and provides control and power enough for 9,000 mini-light display. The basic license is around $318 with free license software. Add ons starts around $50 and goes up to $80 with shipping calculated at checkout.

Christmas in a Box from Animation Lighting is an "All In One Model" offering bundle customization with broadcasting abilities on FM transmitter, 16 channel light controller and 10 Christmas songs. It sells for just under $1,000. The Junior Base with four channels and 15 synchronized tunes sells for about $500.
DIY Equipment
If you aren't going with a complete set and want to DIY, then you can put together the equipment you'll need.
Technical Equipment
Getting everything synced together requires some work.
A computer and specialized lighting software enables you to coordinate light activity and synchronize music.
A programmable controller will serve as the master for the lighting display. This is like a power strip, so be sure to choose the right size to handle the number of lights and strands you want to use.
If you want animatronic displays, you'll need a separate controller. Check specifications on products.
A speaker system or transmitter, so passers-by can hear the show's music or tune in on their car FM radio.
UL-rated, outdoor-insulated extension cords to plug everything in are necessary.
Multiple timers are needed, although most control systems have built-in timers. Be sure to check before purchasing additional timers.
Additional Lights and Decorations
A passel of lights and additional decorations, like wreaths and trees, are needed to round out most displays. Regular lights can turn off and on using a controller, but look for some with special features. Items include ropes, icicle strands, and outdoor inflatables.
Design Ideas
Whether you want a bit of additional sparkle or a light show extravaganza, pick up design ideas for your animated Christmas lights from these displays.
Animated Christmas Light Displays
Christmas Ping Pong is part of Larsen's Light Show in Illinois.
This ABC video explores entire neighborhoods in America competing for the best Christmas light show.
Three-time Christmas light competition champion Todd Smith is featured in this TLC episode.
The Weber Family Christmas Light Show runs about 35 minutes and is in sync with various Christmas songs.
This Christmas light show is from Trista Lights in Minnetrista, MN.
Last Christmas is another popular tune from the Larsen's Light Show in Illinois.
Fred Loya's El Paso Christmas Lights from 2015 includes tunes from popular movies as well as holiday favorites.
Important Technical Considerations
Safety is the number one concern. EnergyIdeas.org recommends purchasing outdoor-only, weatherproof, UL-rated light decorations. Each circuit should have a grounded fault circuit interrupter, and all electrical connections need to be off the ground and away from metal railings and gutters.
Plan your wattage carefully. Start by multiplying the amount of watts per bulb, usually 10 watts, with the number of bulbs. Then factor in the amount of power the house is using.
In rural areas, plan a traffic pattern and make sure people have a safe turnaround and proper exits. Also erect barriers to protect people from falling into ditches.
In a neighborhood, ask someone to direct traffic so that it flows slowly, giving wide berth to people walking to their cars or on the sidewalk.
Inform the power company of the potential power draw, discuss possible blackout and power failure issues, and the approximate cost of the lighting the display for a month or so. A holiday lighting calculator may help estimate costs.
Talk with your neighbors about your plans. If you're going to create a sparkling spectacle, they need to be prepared for the extra traffic, people wandering around snapping pictures, and dealing with the brightness and additional noise.
Check city ordinances about lighting and noise and obey those laws.
Animated Lights for Christmas Celebrations
Designing and displaying an animated light show in your front lawn or house is a fun way to celebrate the Christmas season. You can always start small and add to your collection every year.