14 Unique Ways to Decorate Your Fireplace for Christmas
Christmas Fireplace Decorations
Christmas decorations for your fireplace can range from something as simple as garland to a complex design of objects and greenery. You can use Christmas themed decorations or everyday art objects to create a special Christmas vignette for the holiday season.
Fresh Cedar Boughs and Poinsettias
Create a dramatic, sophisticated design for your fireplace with the traditional colors of red and green when you drape live cedar boughs over the mantel and accent with white and red poinsettias. Add a mixture of silver candle holders using white pillar and taper candles. The finishing touch is the silver ball ornaments placed among the cedar.
Star Theme for Christmas Fireplaces
You may decide to use a specific object and use it multiple times for a perfectly symmetrical design. You can add artificial florist fillers, such as red berries, instead of garland. Add a mix of candle pillars and a mirror for the finishing touches.
Garland Below Mantel
Show off your mantel decorations by hanging a lighted garland below the mantel. This design makes way for matching floral arrangements placed in different vases for greater design interest. Use Christmas greenery to decorative a star made from twigs and twine. A wooden tray in the center holds a pillar candle collection. Add a tall wooden candle holder and candle on one end of the mantel and a pair of Christmas mugs on the other. Hang your stockings and you're set for Santa's visit.
Christmas Message Decoration
If you love message decorations, Christmas is a great time to feature this type of fireplace decoration. Place your message in the center of the mantle. You can substitute block art with word art decals on the wall above the mantel. Create small vignettes of reindeer, Christmas trees and a cute snowman or Santa. Add a little cotton batting for a snow effect.
Rustic Folk Art
You can go with a folk-art theme to create a fireplace theme. Select wood art objects to decorate the mantel. You can choose a sub theme and repeat it in varying sizes, such as wood angels, Christmas trees and stars. You can add a few pinecones and Christmas ball ornaments. Select a wall-mounted reindeer trophy art or a homemade wreath to hang above the mantel.
Simple Woodsy Elegance
Live or artificial greenery can be draped over the mantel for a woodsy look. Place large pinecones throughout your creation and add a few sprigs of berries and ivy. You can use a matching pair of candlesticks and taper candles set on either side of a hurricane vase filled with gold ornament balls. A metal cup or vase filled with pheasant feathers completes this forest setting decoration.
Add Depth to Ornate Fireplaces
You can add a layer of textures divided into three groupings to showcase a beautiful ornate fireplace. The wreath dominates this design, so a grouping of twig, grapevine, and wicker rattan balls, silver reindeer and ball ornament are all that's needed for the center grouping. One end grouping features a pinecone Christmas tree, wall sconce candle and mercury glass candle holders with pillar candles. The other end displays a hurricane vase filled with similar balls and a tall mercury glass candle holder with candle.
Whimsical Themed Fireplace Christmas Decorations
Use light-hearted decorations for your Christmas fireplace design. Start with the stocking holders and add similar types of decorations, such as two snow globes, a red velvet box with a prized Christmas ornament, bottle brush trees and other types of Christmas trees and a wood picket fence in the background. Add a pair of silver candle stick on both ends, a beautiful fun Christmas wreath centerpiece and a unique crystal buffet lamp for a fun and happy decorated fireplace.
Mantel Scarf and Poinsettia
A holiday-themed mantel scarf is a simple Christmas fireplace decoration. You may prefer a formal look with large tasseled triangle shapes. You can keep the mantel design simple with nativity figures anchored on each end with tall buffet lamps or tall candle sticks. Keep symmetry with a mantel clock by added a textured glass ball on a brass stand. Heavy, tall, hearth candlesticks, poinsettia and a palm plant make this simple fireplace design complete.
Dramatic Cascading Garland and Ribbons
Whether you have a mantel or a pair of corbels for your fireplace, you can drape garland to frame your fireplace with a dramatic flair. This garland is created with a mix of greenery, sprigs of berries, and lighted twigs. The oversized bow in the center of the mantel feature extraordinarily long waves of ribbons that cascade all the way to the floor, the entire length of the garland for an amazing dramatic effect!
Nativity and Garland Fireplace Design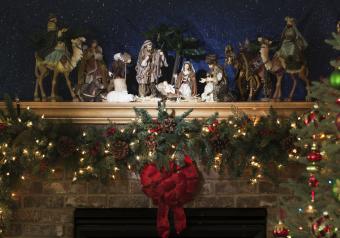 One of the best ways to showcase your nativity set is on the fireplace mantle. You can spread a starlit fabric behind the mantel, held in place with double-sided foam tape. Drape garland from the mantle with a lush velvet bow in the center.
Ice and Fairy Lights
Capture the magic of winter with a Christmas fireplace design of branches, vines, pinecones and fairy lights. Use glass vases to create wintry dried arrangements with floral capiz shell stems. Don't forget a string of fairy lights or other type of strand lighting underneath the mantel for the full effect.
Christmas Fireplace Decorations and Themes
There are many themes you can choose for an amazing Christmas fireplace decoration. Recreating your favorite design is easy and allows you the opportunity to make it yours with special touches, such as wall art and cherished art objects for unusual Christmas decorations.