Coordinated Tables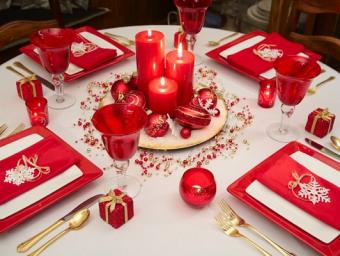 To make your holiday meal even more merry, consider these Christmas table decoration ideas when you are planning your menu. A well-decorated table with coordinated linens, accents, and centerpieces makes a beautiful menu even more delicious, and there are many ways to decorate your holiday table to bring out the seasonal spirit during your special meals.
Fancy Dishes
Breaking out the good china is the easiest way to add a festive element to your holiday table. A colorful pattern brightens up the table easily, and adding an elegantly folded napkin with a sprig of seasonal greenery is an easy way to give it a holiday flair.
Place Cards
Holiday place cards are a necessity for a big meal with a long guest list. Cards can be folded and placed on each plate, or ornamental place card holders can add a bit of sparkle to the table.
Holiday Dishes
Holiday dishes with seasonal patterns of holly, snowflakes, or other holiday accents are a beautiful way to serve your special holiday meals. If you prefer not to have a specific set of holiday dishes, use holiday patterns only for serving dishes instead.
Simple Decorations
Decorating a holiday table does not need to be difficult. A simple, colorful ornament on each place setting - on a plate or in a bowl - is an easy way to add a burst of seasonal color to your table. Each place setting can use a different color, or use one color for a fully coordinated table.
Unique Centerpieces
If you want to add holiday color to your table in a unique way, choose an unusual centerpiece. Poinsettias may be popular holiday flowers, but red roses in a vase of evergreen boughs is just as seasonal and more eye-catching.
Gifts
Adding a small gift at each place setting brings a celebratory feeling to your holiday table. This is also a great way to distribute favors for a holiday dinner party, or for a family to share small stockings.
Festive Foods
The food will be the highlight of your holiday table, so be sure it is as attractive as it is delicious. Add garnishes to each dish, such as greens, boldly colored fruits or vegetables, and sprinkles of spices. Elegant serving dishes and cutlery also add beauty to your table.
Colored Goblets
Colored wine goblets, whether they are used for wine, milk, sparkling cider, or water, add a burst of color to your table. Gold, red, and green options are the most popular, or go for a more unusual shade such as purple, teal, or magenta.
Christmas Topiaries
Holiday topiaries are fun Christmas table decorations. Small tinsel trees are easy to add to a table, or you can find potted topiaries of holly or evergreen for a live touch of beauty. If you prefer artificial decorations, consider crystal trees or other unique options.
Candle Centerpiece
Candles are a perfect holiday centerpiece that can add a warm, soothing atmosphere to any holiday meal. Choose a few coordinated pillar candles and wrap garland around their bases for an easy centerpiece you can make yourself, or visit a local florist or craft center for ready made holiday centerpieces with candles.
Rustic Centerpiece
A rustic but beautiful option for a holiday centerpiece to decorate your Christmas table is a beaded fruit candle wreath. Candle wreaths with twigs, berries, and evergreen boughs are other popular options. For even more decoration, add a table runner in holiday colors.
Christmas Crackers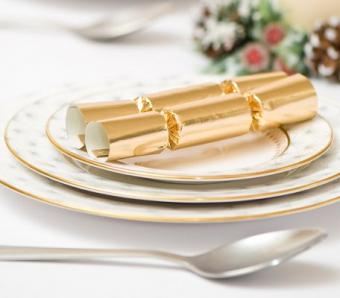 A fun Christmas cracker or two at each place setting is a quick way to add glitter to your holiday table. Crackers come in many designs, from simple holiday colors to bold seasonal prints, and the small gifts they contain can be fun party favors.
Beyond the Table
When you're choosing decorations for your Christmas table, don't forget to decorate the chairs surrounding that table as well. Simple chair covers with boldly colored ribbons are an easy option, and adding a sprig of pine with bright red berries and a jingle bell gives each seat a festive look.
Edible Centerpieces
A fun and tasty Christmas table decoration idea is to add a gingerbread cookie tree or a decorated gingerbread house to your holiday table. Even a simple bowl of mixed nuts, peppermints, or other holiday candies can add sweet color to your table.
For more Christmas decoration ideas, check out…
Unusual Christmas Decorations