A Brief History of Father Christmas and His Many Names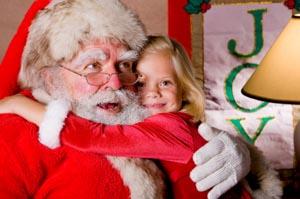 If you're a fan of Christmas trivia, this article will help you brush up on Father Christmas history.
A Brief Father Christmas History
Although most people use the names "Father Christmas" and "Santa Claus" interchangeably, the two characters have historically different identities.
Father Christmas is thought to have originated as a character belonging to part of an old English winter festival who was a sign of the returning spring. He would go from door to door in a neighborhood and feast with each family as a sign of goodwill.
It is interesting to note that the first stories of Father Christmas do not portray him as bringing gifts or being associated with helping children to enjoy the Christmas holiday. It was not until the Victorian Era when stories of Santa and characters known as Sir Christmas, Lord Christmas, and Old Father Christmas began to merge that Father Christmas gained the reputation he enjoys today.
In 1822, Clement Clarke Moore described Father Christmas in his classic poem The Night Before Christmas:
He was dressed all in fur, from his head to his foot,
And his clothes were all tarnished with ashes and soot;
A bundle of toys he had flung on his back,
And he looked like a peddler just opening his pack.
His eyes -- how they twinkled! His dimples -- how merry!
His cheeks were like roses, his nose like a cherry!
His droll little mouth was drawn up like a bow,
And the beard of his chin was as white as the snow;
The stump of a pipe he held tight in his teeth,
And the smoke it encircled his head like a wreath;
He had a broad face and a little round belly,
That shook, when he laughed like a bowl full of jelly.
While Father Christmas is often portrayed in modern illustrations wearing a red coat, this dressing style appears to have developed in the 1930s. Before then, Father Christmas was most often shown wearing green. It is speculated that Coca-Cola's extensive advertising campaigns were the reason for the change.
Names for Father Christmas Around the World
Today, people in the United States generally refer to Santa Claus as the bearer of gifts for Christmas. In other parts of the world, however, Father Christmas remains the iconic holiday figure of choice. Translations for Father Christmas include:
Afghanistan - "Baba Chaghaloo"
Brazil - "Papai Noel"
Chile - "Viejito Pascuero"
China - "Shengdan laoren"
Croatia - "Djed Mraz"
Czech Republic - "Ježíšek"
Denmark - "Julemanden"
Ecuador - "Papa Noel"
Egypt - "Baba Noël"
France and French Canada - "Père Noël"
Germany - "Weihnachtsmann"
Iraq - "Baba Noel"
Indonesia - "Sinterklas"
Ireland - "Daidí na Nollag"
Mexico - "El Niñito Dios"
Norway - "Julenissen"
Pakistan - "Christmas Baba"
Peru - "Papá Noel"
Philippines - "Santa Klaus"
Portugal - "Pai Natal"
Sweden - "Jultomten"
Switzerland - "Samichlaus"
Turkey - "Noel Baba"
Letters from Father Christmas
If you're fascinated by Father Christmas history, you may want to pick up a copy of Letters from Father Christmas. This charming children's book was written and illustrated by J. R. R. Tolkien between 1920 and 1942. An English writer, poet, and professor, J. R. R. Tolkien is best known as the author of the fantasy classics The Hobbit and The Lord of the Rings.Letters from Father Christmas consists of various responses J. R. R. Tolkien prepared to answer letters his children wrote to Father Christmas each year. Whimsical characters such as elves, goblins, a snowman gardener, and a polar bear who acts as Santa's assistant add a charming touch to each tale. The book was first released in 1976. It was edited by Baillie Tolkien, the second wife of J. R. R. Tolkien's youngest son Christopher Tolkien. Since then, however, several different editions have been created to keep up with demand for the story.