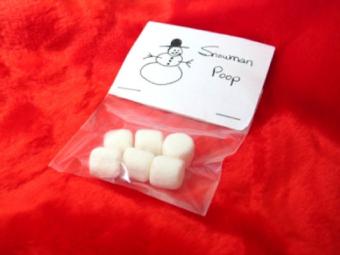 While most of the gifts people typically give for Christmas are either sentimental, practical, or luxury items, a funny gift is a priceless treasure that can have people remembering and laughing for decades to come. There are lots of great options out there, from gag gifts you make yourself to purchased items that are guaranteed to get a laugh. Choosing the right Christmas gag gift is all about knowing your audience and picking the perfect gift to match.
Homemade Holiday Gag Gifts
Although they can be given any time of year, the following Christmas gag gift ideas work well around the holidays, and they are gifts easily made at home. Try one of these today for a funny present with a personal touch.
Reindeer or Snowman "Poop"
Rudolph or reindeer "poop" is a perfect gift for kids. All you need are malted milk balls or chocolate covered raisins. Place the candy in a plastic bag or container and tie it with festive ribbon. Kids will love the naughty nature of this edible present.
Another variation on this theme is snowman "poop." In this case, use mini marshmallows for the snowman's waste.
Dropped Cookies
This is a great gag gift for co-workers or neighbors you know well. Place a collection of festive holiday cookies on a clean dustpan and wrap with saran wrap or cellophane. Affix a message that you have salvaged the "dropped" cookies for the recipient.
Spider Killing Kit
This is another gift that can work for anyone on your list who enjoys a good joke. Get two blocks of wood, and paint one red and one green. Write up a tag that says "spider killing kit" and include instructions for using it. Instructions can tell the recipient to place the spider on the green block and strike it with the red block.
Battery Gag
Ever receive a gift that needs batteries but they're not included? Here's a perfect twist for Christmas. Give two batteries, any size, and a small card that indicates the gift is not included.
Cozy Christmas Slippers
This gift is best for women you know really well and is definitely for adults only. Use four maxi pads to make a pair of Christmas "slippers." Use one large pad for the sole of each slipper and add a second pad for the part that goes over your foot. Decorate with red and green markers to make them festive, and affix shredded tampons as tassels.
World's Hardest Puzzle
Using tiny items such as Christmas colored sprinkles or sawdust, place contents in a bag labeled with a phrase such as "world's hardest puzzle." This is a great gag gift for people who usually love completing puzzles.
Magic "Pills"
This is another gag gift that is best used for adults, since it's important that kids never joke about eating medicine. Place holiday-colored candy in small bottles labeled as "pills" for various ailments. These can claim to cure certain holiday ailments, such as hangovers and weight gain.
Kids' Booger Box
Another great option for kids a is a booger box. To make one, get a tiny box, any kind, and fill it with a few small pieces of dried rubber cement. Kids of all ages will find this gift hilarious.
Missing Pieces
For a family gift, give a board, challenge or trivia game with missing pieces or missing instructions. Suggest the game be played at the gathering or party to reveal the gag.
Baby Gift for Couple Not Expecting
Pick up some thrift store Christmas-themed baby outfits, a baby's first Christmas ornament, a diaper bag, and some extras like pacifiers and diapers. Package it all up with a note of congratulations, and wait for the couple to try to explain that they aren't expecting a baby.
Buying Christmas Joke Gifts
Many people make up their own Christmas gag gift ideas, but you can also purchase them at select websites and stores. There are gifts that are appropriate for various recipients.
Gag Gifts for Women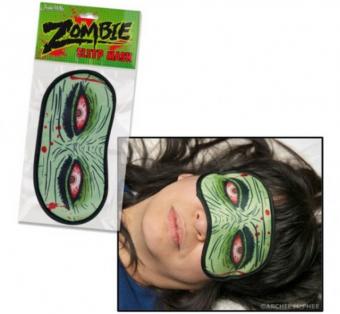 The following gag gifts are perfect for the ladies on your list:
Zombie Sleep Mask - This sleep mask from Gadgets and Gear is printed with the eyes of a zombie and makes a great stocking stuffer. It retails for five dollars.
Miss Understood Pageant Sash - This pageant sash is a hilarious choice for any woman in your life. It retails for about $20 from NeatoShop.
Peter Petri Egg Separator - This disgusting egg separator from Stupid.com is a great gift for any woman (or man) who loves to cook. When you've cracked an egg in the container, you can tip it forward to pour the egg white out through the guy's nose. It retails for $14.
Gag Gifts for Men
Try one of these funny gifts for the men on your shopping list:
Switchblade Comb - This comb from Gadgets and Gear resembles a switchblade. It makes a great stocking stuffer and retails for about seven dollars.
Gigantic Rubber Fish - Does Dad love fishing but never seem to come home with a trophy? Give him this 13-inch-long rubber fish for Christmas. It retails for eight dollars.
Toilet Mug - This realistic looking toilet-shaped mug from Stupid.com is a hilarious choice for any guy who loves coffee. It retails for $15.
Gag Gifts for Kids
The kids on your list will find these ideas hilarious:
Underpants Hands - Kids will love these miniature tighty whities for their hands from PrankPlace.com. They are one-size-fits-most and retail for about $13.
Coal for Christmas - If kids have been a little bit naughty this year, you can give them real coal as a gag gift. Just be sure to include some candy too! The coal retails for about two dollars from Linda Anderson.
Inflatable Unicorn Horn - This inflatable horn from Stupid.com is a hilarious gift for teens and older kids. It retails for about eight dollars.
Gag Gifts for Friends
The following gifts are great for friends who have a sense of humor:
Squirrel Mask from NeatoShop.com

Gag Lottery Ticket - This realistic lottery ticket announces that your friend or co-worker has won thousands of dollars. It also includes amusing and insulting text. It retails for five dollars.
Fishy Candy - What seems like a sweet Christmas treat is actually fish-flavored candy from Gadgets and Gears. Take the pieces out of the larger packaging so recipients won't know the gag until they taste the green-colored candy. A pack of two candies retails for about three dollars.
Squirrel Mask - Perfect for anyone on your list, this squirrel mask from NeatoShop is sure to get a laugh. It retails for $25.
Tips for Successful Holiday Gag Gifts
Although they can be hilarious, not everyone on your Christmas list will find gag gifts amusing. Knowing your audience and choosing the appropriate gift are important for success. Keep these tips in mind:
Stick to people you know well, especially in professional settings. If you're sure you really know the person, you can get a better sense of whether they might be offended by the gift.
Understand the ambiance of the gift-giving setting. If you have a casual workplace, a gag might be more acceptable than in more formal corporate environment.
Refrain from giving gag gifts when other people who may be offended will be present. Instead, choose a time when you and the recipient are alone or are surrounded by people who will find it funny.
Deliver gags with adult, toilet, or other questionable humor only around recipients who won't be offended. Likewise, do not give gag presents when children are present if there is any questionable element to the gift's humor.
If the gag includes an "inside" joke that only you and the recipient know, either give the gag in private or tell the story prior to the gift giving so other guests do not feel excluded.
A Gift That's Legendary
If you choose the right present for the right person, your Christmas gag gift may become legendary among your friends and family. There are lots of great options out there to make or buy, so get creative and have fun.