Free Santa Letters for Kids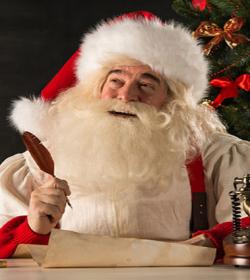 Few things bring more joy to kids than receiving a personalized letter from Santa Claus. Letters from the jolly old man help bring the enchantment of Christmas to children everywhere.
Free Printable Santa Letters
Save money by picking out a free letter from Santa that can be printed at home.
Noella Designs
Noella Designs offers three unique, fill-in-the-blank letters or create original text for your letter. There are 12 backgrounds to choose from including Santa, stockings and holly, the North Pole, polar bears, and a train. You can also create custom envelopes.
To create a Santa letter, select the letter you like, pick a design, and then personalize the items in parentheses (be sure to remove them after updating the text). Print your letter, making sure you enable "print background colors and images."
Letter From Santa
This website offers a free letter from Santa that you can download via email. The design features a jolly Santa Claus image and is personalized with a child's name. The personalized letter is sent to your email address to download and print.
Choose the "No Cost" option before hitting the Next button at the bottom of the page to select the free version.
Free Letters From Santa Claus
Choose from five Santa letters and eight backgrounds on this website. First, you'll choose the design and letter text, then personalize with child's name, age, hometown, desired present, and accomplishment. Next, you'll preview and "accept" your letter. Standard letters are free to download and print.
Santa Claus Museum and Village
Use this website to create custom letters to Santa. Enter the child's name, gender, age, and a wanted gift in the boxes provided and choose from three letters. All letters feature the image of Santa Claus and his reindeer flying through the sky. After clicking the submit button, a new browser will open with your customized letter. Print the letter, choosing the "fit to page" option.
The Holiday Spot
The Holiday Spot offers several letters to Santa on over six unique backgrounds including Santa Claus or a wintry night background. To create, click on the design you want choose your background. The only text you need to add is a greeting with the recipient's name, although you can alter the standard message if desired. Once the greeting is added, preview and print the letter. If you prefer, you can email the letter instead.
Digiprint Christmas
To create a letter from Santa using Digiprint Christmas, choose from four text templates and five letter designs. Enter the recipient's information and a custom message, if desired, and generate your letter. What makes this letter unique is you can make it from any of Santa Claus' aliases such as Father Christmas or Saint Nicholas. Once you've generated your letter, a PDF will open and you can print your letter.
Free-N-Fun
This letter from Santa features the image of Santa by the fireplace and is simple to create. Download the PDF, replace the fillable fields with the recipient's information, and print the letter. The fill-in areas include name, age, gender, and friend's name.
Plan the Surprise
Once you've printed your Santa letter, there are several ways you may use it to surprise a child.
To make the letter look more official, roll it up and tie with a red or green ribbon.
Place the letter in an envelope addressed to your child, add silver or gold glitter, and mail the letter.
Put the letter in with the rest of your mail pile and have your child sort the pile.
Tuck the letter into your child's Christmas stocking, leaving the top portion exposed.
Slip the letter into your child's backpack.
Place the letter in the fireplace as if it was delivered down the chimney.
Other Christmas Letter Options
Post offices around the world receive a lot of mail for Santa during the Christmas season. Postal workers and volunteers try to respond to as many letters as possible. Find the proper Santa Claus mailing address to mail your child's letter and receive a response.
Letters to Santa that arrive at other U.S. post offices won't necessarily be ignored. Volunteers with Operation Santa Claus, an effort that began in the 1920s, answer Santa letters and purchase gifts for needy children.
If your child is old enough to have an email account or waits too long to send a traditional letter, he or she can email Santa and he will respond via email.
Santa Letters Bring Joy
The love of Santa Claus is universal, and kids respond to him no matter their age, gender, or circumstance. Given the stressors kids face these days, they need as many joyful moments as possible. Children will feel joy when they receive a Santa letter, and you'll feel the same when you give one. Santa letters also encourage kids to be on their best behavior and reinforce the Christmas message of hope and goodwill.