History of Christmas Cards: An Overview of Their Evolution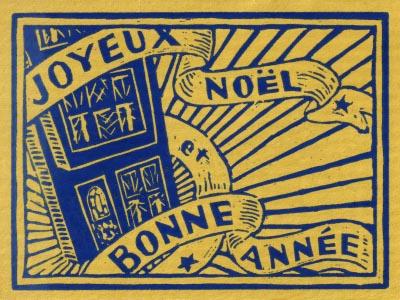 If you're in the middle of selecting a design for your holiday greeting, you may find yourself wondering about the history of Christmas cards.
A Brief History of Christmas Cards
In 1843, Sir Henry Cole commissioned the first commercial Christmas cards in London. The cards were illustrated by John Callcott Horsley with a picture of a family drinking wine and sold for one penny each. Although his design choice was criticized for promoting the "moral corruption" of children, Cole's idea spawned the beginnings of one of the most important holiday traditions.
One interesting aspect of the early history of Christmas cards is that you seldom saw illustrations that depicted snow, Christmas trees, or winter themes. Instead, people preferred to send cards with pictures of flowers, fairies, and lighthearted landscapes that would remind the recipient that Spring would soon be approaching. Early Christmas card designs were also surprisingly elaborate, with cards shaped like fans, crescents, bells, birds, and candles. Some cards could even be folded like maps or fitted together as puzzles.
In 1875, Louis Prang became the first printer to offer commercial Christmas cards in the United States. His designs included traditional Christmas and winter motifs. The cards were very successful and quickly spawned a number of cheap imitations that ultimately led to the demise of his business. You can see a sample of cards from this time period by browsing through the gallery on the Emotions Cards Web site.
In the 1900s, many charities began selling Christmas cards as a fundraising tool. The best known example of this type of approach is the UNICEF Christmas card program, launched in 1949. However, there have also been a number of unscrupulous individuals who have attempted to sell Christmas cards that actually give little or no money to the charities they claim to support.
In 1953, President Dwight D. Eisenhower issued the first official White House card. This soon became an annual holiday tradition, with prominent American artists being asked to create original images of the White House during the winter months. The cards are sent to U.S. ambassadors abroad, members of the Cabinet and Congress, prominent government officials, and foreign heads of state, as well as various private citizens.
Christmas Cards Today
Although email and electronic ecards tend to be the communication method of choice for most everyday correspondence, it's still quite popular for people to send out annual holiday greetings to their friends and family. In fact, one Hallmark survey found that more than 1.9 billion Christmas cards are mailed each year throughout the United States.
When loved ones live far away, a Christmas card is a great chance to catch up with how their lives have changed throughout the year. Photo greeting cards are becoming increasingly common, as are annual holiday newsletters that provide the recipient with a quick recap of the year's events.
Today's Christmas cards feature designs to suit nearly every taste. You can still find traditional religious greetings, but there are a number of secular designs available as well. Humorous cards with jokes about the Christmas holiday are also quite popular among young people.
Collecting Christmas Cards
The history of Christmas cards is rich and complex, which makes the greetings prized items among collectors with an interest in holiday memorabilia. In fact, Queen Mary's collection of Christmas cards is now on display in the British Museum.
When collecting Christmas cards, some people save only the cards that have a special personal significance, such as greetings with a handwritten message from a loved one. Others, however, base their collection around a particular motif. Collecting cards that feature Santa Claus or the Nativity, for example, can be a fun hobby. People who collect Hallmark ornaments may also find it interesting to develop a collection of Hallmark Christmas cards.