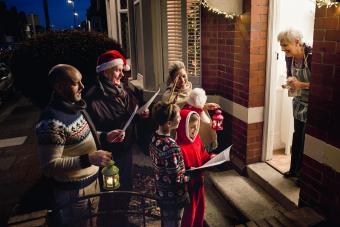 The history of Christmas carols is just as rich and varied as the songs that you enjoy every holiday season. Whether you sing them loudly with friends in the car or go caroling with your family every year, understanding where these quintessential songs come from and how they've maintained their popularity over the centuries can help you appreciate this beloved Christmas tradition even more.
Behind the Christmas Carol
There's a lot of confusion over what songs should and shouldn't be considered Christmas carols. In general, Christmas carols only have to describe the winter holiday in some capacity, meaning that every holiday song pertaining to the festivities or their religious connections would belong to the category. Of course, the people crafting historic definitions of the category probably didn't anticipate such holiday bangers as All I Want for Christmas Is You and Last Christmas. Therefore, an easy way to make sense of this interesting category is to use a generalized 'carol' umbrella and lump all of the songs into two sub-categories: traditional and modern.
Caroling Origins
Carols and caroling originally described a circulating dance accompanied by singing that was often featured in pagan celebrations during the winter solstice every year. As with most pagan rituals, Christian society stole and repurposed these traditions into something for their worshipping practices. In 1223, St. Francis of Assisi purportedly introduced carols to his nativity plays and Christmas mass, thus beginning the long history of holiday-specific carols.
Caroling During the Medieval Period
During the Medieval period, more and more Christmas carols were being composed. These reflected deeply spiritual sentiments about the Christ child and the Virgin Mary. Commemorating Jesus Christ's birth, these songs were sung in both English and Latin and only grew in popularity until the Protestant Reformation swept continental Europe in the 17th century. A shift in worship practices towards something more rigid caused most of these songs to be discontinued or banned. Therefore, many of these older songs have been lost to time.
How Modern Caroling Developed
While carols did eventually make a return in the wake of this religious controversy, the development of the broadcast system in the 20th century gave people a new way to listen to these traditional songs from within their homes. While the practice of 'caroling' had been around for hundreds of years on the European mainland as a celebratory exaltation, in the 20th century, it became synonymous with the middle-class Christmas experience, and modern songs joined these traditional tunes to create an entire genre of caroling music.
Traditional Christmas Carols
Included in many old hymnal books and large songbooks from the early 20th century, these are some of the most beloved traditional Christmas carols that can be heard playing in postal offices and department stores every winter season.
O Little Town of Bethlehem
Silent Night, Holy Night
On the First Noel
Away in a Manger
Hark! the Herald Angels Sing
O Holy Night
O Come All Ye Faithful
O Come, O Come Emmanuel
God Rest Ye Merry, Gentlemen
Gaudete
Carol of the Bells
Good King Wenceslas
Angels We Have Heard on High
Modern Christmas Carols
The 20th century was an incredibly lucrative time for the production of new Christmas carols. Featured in movie musicals, Claymation classics, and Top 40 Hits, here are a few of the more recent carols to have been added to the Christmas lyrical canon:
Do You Hear What I Hear
Have Yourself a Merry Little Christmas
Blue Christmas
Deck the Halls
O, Christmas Tree
The Christmas Song
Rudolph, the Red-Nosed Reindeer
Jingle Bells
Little Drummer Boy
Have a Holly Jolly Christmas
Wonderful Christmastime
Let It Snow! Let It Snow! Let It Snow!
Behind the Music: Christmas Carols Edition
Unlike other performing arts, the background of classical compositions isn't as well-documented in the public consciousness. Yet, there are a slew of interesting stories for the strange and humorous ways that these Christmas carols came to be. Let's go behind the music on a few of these beloved Christmas classics.
O Little Town of Bethlehem
A Boston minister named Philips Brooks pilgrimaged to the holy town of Bethlehem in Christmas of 1866. Inspired by his experiences in the sacrosanct city, he penned a poem entitled O Little Town of Bethlehem for his parish's Sunday school. Lewis H. Redner, the church's organist, was asked to compose the music for the poem, and legend has it that the song was born the very evening before it premiered in their church.
Hark! The Herald Angels Sing
Published in 1739 in Hymns and Sacred Poems, this exalting tune about the birth of Jesus Christ was actually written by Charles Wesley, the founder of Methodism, and put to music by renowned German composer Felix Mendelssohn.
Have Yourself a Merry Little Christmas
Written by Hugh Martin and Ralph Blane, this song was featured in the 1944 Judy Garland vehicle Meet Me in St. Louis. The original lyrics were far more somber than those that're heard in the finished film. One of the original lines read "Have yourself a merry little Christmas | It may be your last | Next year we may be all living in the past." Garland requested to the studio that the lyrics be rewritten in order to prevent her from looking mean on camera and from causing her child costar emotional distress. Martin and Blane, after some debate, obliged and their rewrite is the one used in the film.
Stop! Carol Time
Caroling is a way for communities to come together during the holiday season and bring a bit of jubilation and joy to their neighbor's homes. This instinct to come together and share in a moving experience using song has been happening for hundreds of years, and there seems to be no stopping it anytime soon. No matter if you prefer traditional songs or modern tunes, don't hesitate to add your voice to the crowds and gift everyone a touch of mirth this holiday season.