Lighted outdoor Christmas trees decorations add ambiance and sparkle to your home Christmas display. Whether you use them as the centerpiece on your lawn or as an accent in a larger decorating scheme, you'll find a nice array of these decorations to choose from.
Lighted Outdoor Christmas Tree Decoration Options
Lighting Outdoor Christmas Trees
When decorating outdoor trees for Christmas, many people choose traditional light strands. If you want to really make your trees stand out, consider these unique lighting options.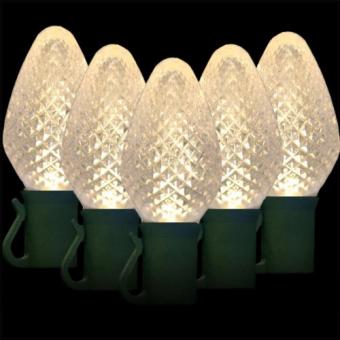 A set of Mr. Light Christmas Lights offers the look of vintage lights with the safety of LED technology. Each 10-foot strand has 25 lights and costs about $15.00 plus shipping.
Ribbon Lights combine three strands of light to create a ribbon effect, and their width makes the job of wrapping the tree with lights go quicker. Strands are available in red, green, pink, blue, purple, multi, yellow, and combination colors. Prices for each 12.5-foot set ranges from $16.00 $23.00 plus shipping.
Solar Fairy Lights are not only environmentally friendly, they will add a touch of whimsy to your outdoor display. Each 100 LED, 55-foot light strand costs around $16.00 plus shipping.
If you enjoy color morphing action in your lights, try this set of 50 Ball Color Changing Lights that continuously change color. Each 16-foot strand costs just under $25.00, and free shipping is available.
Rope Lights are a unique way to light outdoor trees. They're available in a range of colors that will illuminate your yard with high intensity LED light. Each 18-foot light strand costs just over $30.00, and free shipping is available.
Decorations for Outdoor Trees
In addition to lights, you can add merry appeal to your trees by decorating them with lighted outdoor ornaments. Consider the following choices.
Pre-Lighted Trees
Even if you don't have trees in your yard or you don't have a lot of time to decorate, you can still have a beautiful outdoor display by purchasing pre-lit Christmas trees. Here are some options to consider.
Walkway Christmas Trees offer a unique way to add appeal to your sidewalk or driveway. Each battery-operated tree is decorated with pinecones, is available in multi or white lights, and features a convenient on/off timer. costs about $50.00 plus shipping.
Spiral Christmas trees are a popular option. Each tree is made from rope lights that spiral around a base to create a tree shape. This version is available with multi or clear lights and costs about $25.00 plus shipping.
If you live in a warm climate, this Outdoor Palm Christmas Tree is a fun accent. This six-foot-tall decoration features 300 clear lights and costs just over $200.00 plus shipping.
This five-foot-tall Twinkle Ice Tree is made of 600 clear twinkle lights to add sparkle and shimmer to your light display. The cost is approximately $180.00 plus shipping.
A Potted Christmas Tree would make a great way to decorate your front porch. This 36-inch-tall decoration sells for about $30.00 plus shipping.
A Lighted Winter Wonderland
Whether you choose to decorate natural evergreen trees growing in your yard or you purchase pre-lit trees, you can easily create a beautiful winter wonderland with lights. You can keep your lighted decorations subtle and only decorate a few trees, or you can go all out and add lighted trees to your porch and walkways, and decorate every tree in your yard. Whichever method you choose, these decorations are sure to add extra cheer to your holiday celebrations.