Majestic Christmas Mantel Decorations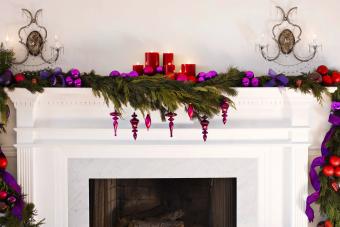 Do you love to go all out for Christmas? Take your holiday decor farther than just your Christmas tree. Brighten up your mantel with a few Christmas decorations. Go elegant or veer off into the whimsical realm. Use live greenery to set the holiday spirit, or opt for the convenience of artificial pine garland. No matter what you choose, it's all about the fun of the season.
Elegant Gold Mantel
Do you want to keep your mantel looking luxurious? Then this decorated mantel might be right up your alley. The mix of gold berry sprigs and glitter balls in brown, gold, and brown/gold stripes are repeated in the ribbons adorned with gold reindeer. It's all highlighted with a lighted pine and pinecone garland, creating a truly stunning mantel design.
Traditional Woodsy Mantel
Keep your mantel looking alive and purely medieval by creating a traditional woodsy mantel Christmas aesthetic. To achieve this look, you will need some spruce branches and a few poinsettias. White candles add accents and can work to bring the scent of the branches alive. Top off this look with a few plain red stockings.
Red Rose Mantel
Elegance is all about adding your own style. And a rose mantel screams elegance. However, the martini glasses work to give this design a modern feel. To achieve this design on a budget, you just need some silk roses, red bulbs, and martini glasses. Arrange some tea lights and drape a little garland. It's not only a trendy mantel that your friends will enjoy, but it can be created on a budget.
Frosty Purple Reindeer
Not every Christmas mantel needs to be red and green. Go a completely different route by spicing up your Christmas scene with some frosty purple reindeer. Create this cool mantel design with frosted pine/pinecone garland, snowflake ornaments, white Christmas balls, and garland strands of faux pearls and snowflakes. Add lavender ribbons, bows, and purple tree silhouettes.
The reindeer cutout centerpiece can be created with lavender card stock or painted wood decorated with snowflakes and Christmas trees. Hang purple stockings, either in gingham or another design, with satin streamers... and wait for Santa to arrive.
Gold and Silver Galore
If gold and silver are more your cup of tea, then you might enjoy a gold and silver mantel. You need to grab some gold and silver bulbs and a hot glue gun. Use the bulbs to create an interesting centerpiece and glue it all together. You'll then want to fill a glass vase or two with some gold and silver bulbs. Set it off with a few white candles and Christmas lights around the fireplace, and a wreath accented with gold and silver bulbs. Now you are ready to enjoy the festivities.
Victorian Christmas Mantel
Not every mantel has to be eclectic. If you have a love for everything Christmas, you might enjoy a more traditional mantel look. From bows to stockings to pinecones, this mantel is ready and willing to fill your Christmas dreams. For this look, you need a wreath, pine tree Christmas garland, stocking, and a big red bow. Accent the look with some large white traditional candles. You'll be the envy of Pinterest.
Simplicity of Peace
You can keep your mantel simple but still festive, by using some stocking hangers to display your message. You might create a "peace" mantel using letter stocking hangers, or you can fashion another fun theme. The great thing about stocking hangers is that you can customize them for your own personal Christmas adventure.
Suddenly Santa Claus
Liven up your Christmas decorations with a Santa Claus motif. Not only does this exemplify the joy of Christmas, but Santa decorations come in all different shapes and sizes. Line your mantel with some pine tree garland, and splash all the different Santa figurines you can find throughout. Make this scene look like something straight out of a greeting card by stuffing the stockings with small wrapped packages and candy canes. Now you are ready for the holiday season.
Whimsical Christmas
You can have a traditional mantel, but you can also keep it fun. Make your mantel look like something that might exist in Whoville by adding fun striped bulbs, spiraled candy canes, and unique stockings. Add a few Santa Christmas cards and a large light-up holiday wreath. You might even want to consider adding some striped bulbs to your wreath.
Gold Christmas
Looking for a golden glow to set off your mantel? You can't go wrong with some gold Christmas lights. This provides a beautiful golden feel to your Christmas decor. Add some pine garland, gold bulbs, and drape some golden ribbon. Add a few traditional red holiday stockings, and your mantel has a beautiful gold holiday appeal.
Minimalist Christmas
Not everyone likes to have holiday clutter. You can still be festive while keeping your decorations minimalistic. Try a clean white look with a simple holiday wreath. Line your mantel with plain white Christmas houses, and hang some simple snowflake decorations. Alternating red and white snowflake decorations gives a pop of color, while still looking clean.
Nativity Scene
Discover the beauty of mantel scarves, an age-old favorite for any season. This red and gold damask scarf is lined with gold polyester and features thick, full tassels. Nativity figurines are the centerpiece, flanked by candlesticks. Add your prized art objects to complete this style of low-key holiday decorating.
Patchwork Poinsettia Mantel
From minimalist to popping with color, every person has their own particular Christmas look. But if you like poinsettias, then use them in your holiday decorating. Poinsettias are the name of the game in this patchwork poinsettia design. Use gold and red poinsettias on the mantel with a bit of pine tree garland. Add a few gold sconces to tie the whole theme together. You'll then want to use patchwork stockings in the same color pattern as your poinsettias. It's all at once a little fun and a little traditional.
Sparkling Christmas Village
Replicate this warm Christmas village scene that's aglow with holiday cheer. Enhance the village scene with a lace mantel scarf that creates a larger vignette. Add a pine garland with red plaid ribbons to drape below the lace scarf. You can substitute other types of collectibles, such as gingerbread houses, for a truly unique mantel.
White Christmas
Are you dreaming of a white Christmas? Channel the peace of a snowy winter day with this serene mantel. Gather some white candles, white trees, and white bulbs. Add some white lights and a few shot glasses to hold your white bulbs. You can perfectly set this look off with a large mirror behind the decorations and a bit of white garland.
Picture Worthy Mantel Christmas Decorations
Any of these mantel designs will provide memorable and festive decor that family and friends are sure to enjoy! And don't stop at your mantel... you can carry your Christmas theme to additional areas of your home. There are so many fun Christmas themes to provide inspiration to create your own unique holiday look.