Operation Christmas Child: An In-Depth Interview
Operation Christmas Child is the world's largest Christmas project. Organized by the ministry Samaritan's Purse in 1993, the mission delivers special "shoe box gifts" to nearly eight million children in more than 100 countries. Quite often, children receiving these shoe boxes filled with goodies have never received a gift before.
Across America, millions of people pack school supplies, toys, games, hard candy, necessity items, gospel messages, and notes of encouragement into wrapped shoe boxes. More than 100,000 volunteers then gather together to process the gifts and prepare them for shipment.
Samaritan's Purse will do whatever necessary to hand-deliver shoe box gifts to a child in need, even if that means traveling by donkey, camel, boat, or dog sled!
LoveToKnow Christmas had the great opportunity to talk with Randy Riddle, the director of Operation Christmas Child USA about the mission of Samaritan's Purse and how you can participate in giving all year long.
Operation Christmas Child Interview
LoveToKnow (LTK): In 1970, when Bob Pierce founded the ministry Samaritan's Purse, the mission was to "to meet emergency needs in crisis areas through existing evangelical mission agencies and national churches." Is this still the root mission of the organization?
Randy Riddle (RR): Yes, our mission today is true to the original intent of the organization. In fact, our mission statement reads, "Samaritan's Purse is a nondenominational evangelical Christian organization providing spiritual and physical aid to hurting people around the world. Since 1970, Samaritan's Purse has helped meet needs of people who are victims of war, poverty, natural disasters, disease, and famine with the purpose of sharing God's love through His Son, Jesus Christ. The organization serves the Church worldwide to promote the Gospel of the Lord Jesus Christ."
As Samaritan's Purse has grown over the last 10 years, we have developed our own response teams and field offices, which gives us the capacity to work in places where the church is oppressed or non-existent. However, most of our work is still done in partnership with local churches and Christians.
LTK: What are some of the challenges the ministry faces today?
RR: As an international organization, Samaritan's Purse continues to be challenged to meet the significant needs of people in war-torn and disaster-ridden areas of the world. We are also working to raise awareness of the positive impact an individual can have on the life of a person in need. For example, a small shoe box gift sent through Operation Christmas requires relatively little effort by the giver, but can be bring great joy to a child living in poverty.
How the Program Works
LTK: Many people are probably most familiar with the work of Samaritan's Purse through Operation Christmas Child. How does the organization decide on where to send gifts?
RR: In most Operation Christmas Child seasons, the ministry delivers shoe box gifts to children in more than 100 countries. Occasionally, we focus on areas recovering from natural disaster, war, or unusually difficult circumstances.
Most of the boxes are distributed through national leadership teams that we have organized in each country to decide on the specific locations. These are volunteer teams that work all year long to oversee logistics, ministry outreach, prayer support, and church relations in each region.
The number of boxes sent to each country depends on the population, the needs, and the capacity of the national leadership team to handle the shipment and distribute shoe box gifts to the neediest children.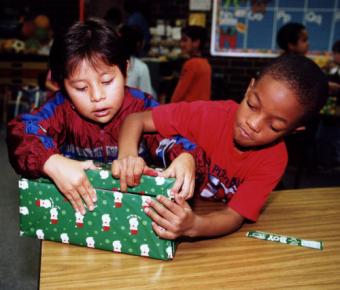 LTK: What difference do you think the program makes?
RR: Operation Christmas Child offers a moment of joy in the receiving and opening of a shoe box gift, in many cases the only gift a child has ever received; and the hope of eternal life found in Jesus Christ alone, the one and only Christmas Child delivered in the Gospel message alongside every shoe box gift.
Beyond these profound impacts, the theme for Operation Christmas Child is "The Power of a Simple Gift," indicating the enormous impact God has on hundreds of thousands who pack boxes, the more than 110,000 volunteers collecting and processing each gift in the US alone, the volunteers in each of the 100 receiving countries overseeing distributions and accompanying ministry activity, the near eight million recipient children and the countless parents, adults and children surrounding each one. In each scenario, God continues to use this program to be a tremendous blessing.
LTK: Please share some personal anecdotes.
RR: Standing in a schoolyard in war-torn Kosovo, in more than a foot of snow, I witnessed children opening the first Christmas gifts they had ever received. I was touched as one 8-year-old boy, sitting on the ground, pulled out a large candy cane, opened it, and held it out for each of his friends who had encircled him to have a taste. He was passing on the generosity that had been shared with him.
Sitting in a dirt floor church in Panama, I was puzzled as to why a little girl was returning her box to me. I couldn't understand her Spanish, so I asked an interpreter to communicate for her. She had received a shoe box gift and had chosen her favorite item out of the box, a pack of pencils, and was returning the box to me. The interpreter explained to me that the girl didn't understand that the entire shoe box gift was for her. The look of overwhelming joy that came over her face will never leave me.
Always, I am affected by the spiritual impact this program has. There is something special and unique about telling a child that there is a God who exists and who loves them, who has not forgotten about them, and the birth of His son is the reason we celebrate Christmas.
Ways You Can Get Involved in Operation Christmas Child
LTK: How would you encourage people to get involved in this project and others like it throughout the year, not just during the holiday season?
RR: There are significant opportunities to participate in Operation Christmas Child throughout the year. Our staff is currently recruiting and training volunteers to serve the project in the areas of:
Church recruitment and relations
Community relations
Media relations
Collections
Prayer support
Currently, there are more than 3,500 volunteers serving the program in all 50 states. These opportunities allow just about anyone to serve in a significant way within their unique talents and gifts.
LTK: Samaritan's Purse is heavily involved in evangelical projects that aid millions of people around the world through medical relief services and driving community development. As good as this work is, do you ever hope you'll be "out of a job" because everything is "fixed?"
RR: Jesus said, "The poor you will always have with you" (Matthew 26:11). It's humbling for us at Samaritan's Purse to be able to make a difference in the daily lives of people who are hungry, thirsty, sick, poor, cold, lonely, frightened, persecuted - you name it. What's really important, though, is making a difference for eternity. Only then will everything be "fixed."
LTK: Please tell us a little about yourself.
RR: I have had the privilege of working for Samaritan's Purse and the Operation Christmas Child department for more than 11 years. I am a graduate of Appalachian State University, where I met my wife, Rebecca. We have three children and live in Boone, North Carolina.
Plan on Mailing by December 31st
If you want to join in the Operation Christmas Child effort, mail or ship your shoe box gift by December 31st to:
Samaritan's Purse
P.O. Box 3000
Boone, NC 28607
Riddle has assured LoveToKnow Christmas that if shoe box gifts are received by December 31st, the program will be able to include your gift in the current year's campaign.