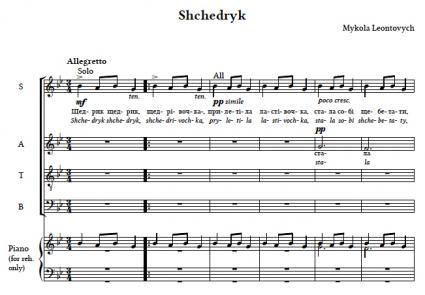 Russian Christmas carols are often a combination of Russian and Ukrainian heritage music. If you've never heard these songs before, you're in for a treat. Learn the history behind these popular carols while listening to them being performed.
Russian Christmas Songs
According to Smithsonian Folkways, "In the Russian Orthodox Church, 'only human voices are allowed to take part in the worship of the Lord.'" The carols are sung a cappella. This means there is no music, just the harmony of the choir. However, lots of contemporary recordings and popular songs often have musical accompaniment.
В лесу родилась ёлочка
The Forest Raised a Christmas Tree
According to Germany's international broadcaster, DW Akademie, The Forest Raised a Christmas Tree is Russia's most popular Christmas tune. It is one of the rare songs that isn't about religion, but a fir tree nurtured by the forest and becoming a decorated tree for Christmas.
The song was written by a biologist, German-Russian Leonid Karlovich Beckmann for his young daughter. His wife was a pianist and wrote it down the lyrics, by borrowing them from a poem by Raisa Kudasheva.
БОГ ПРЕДВІЧНИЙ (Boh Predveechny)
The Eternal God Is Born
This is a 17th century Ukrainian Christmas carol is often known as God Eternal. This is a favorite Ukrainian carol, perhaps since it has a wonderful melody. This performance is directed by Lawrence Havriliak, the St. John's Russian Orthodox Choir of Spring Valley, New York. English translation of the lyrics can be found on Oyla Fryz's website in PDF format.
Христос рождается сегодня
Christ Is Born Today
Stepan Degtyarev (1766-1813) composed Christ Is Born Today. Degtyarev was a renowned russian composer who was born in Ukraine. He was also a conductor and singer. His best known works were nationalistic Russian Choral pieces. In addition, he authored numerous operas as well as composed the first Russian oratorio (like an opera). He served as the conductor and choirmaster for the Sheremetev's serf orchestra.
Добрый Vechir Тоби
Good Eve to You
This is another traditional Ukrainian Christmas Carol often titled Good Evening to You. The origins are obscure and lost over time; however, it's a popular and beloved carol. In fact, it's the greeting carol used when carolers go door to door. It's an invitation for households visited to rejoice with the carolers that the Christ child was born.
Кэрол российских детей
Carol of the Russian Children
This is a 16th century Russian Carol. The melodic almost mystical sounds of the folk carol reflects the harshness yet great beauty of the winter Russian countryside. It's melancholic with its slow pace. The lyrics are childlike, "Shaggy pony, shaggy oxen, gentle shepherds wait the light: little Jesu, little Mother, good Saint Joseph come this night..."
It is considered an ancient song, whose origins are unknown. It is possible that like many Ukrainian carols, it was an ancient pagan song that was late converted into a Christian song.
Сон, Иисус , сна
Sleep, Jesus, Sleep
This carol is also known as Sleep, O Jesus and is often referred to as a lullaby to Jesus. The lyrics feature terms of endearment to the Christ child, the same as a mother would her child, such as "little one", "the lily", and "my little heart". The lyrics turn grim with phrases about men preparing a cross for the child.
Песня Снегурочки
Song of the Snow Maiden
Snegurochka (Snow Maiden) is considered a Christmas song, and listed as one, although it is a Russian folk song. The story is about a lonely Snow Maiden who is cold but when she falls in love, her heart warms and she melts. Many Russian fairy tales center around this theme. Most of the stories cast her as the Granddaughter of Ded Moroz (Grandfather Frost) or Russian Father Christmas.
Нова Radist ' STALA
A New Joy has Come
This is an ancient Ukrainian Carol that, like many of the Ukranian carols and songs, has many sets of lyrics. This arrangement is by Kyrylo Stetsenko (1882-1922). Nova Radist' Stala is performed by the St Nicholas Chorale and friends and directed by Symon Kohut. The lyrics tell of the Star of Bethlehem appearing in the sky, the birth of the Christ child and the angels singing.
Херувимская № 7
Cherubic Hymn No. 7
Choral composer and conduct Dimitry Bortniansky (1751-1825) created this hymn. He led the Imperial Court Chapel of St. Petersburg and it became the best of Europe's choirs. His composition, Cherubic Hymn No. 7, became one of the Russian Orthodox church most popular hymns.
Finding Other Russian Christmas Carols
Some websites are dedicated to Russian Christmas carols. Many offer either samples, downloads, or even purchasing links. Check out two with additional tunes below:
Origen music site offers Russian church worship music, carols, and heritage songs.
You can also purchase a CD collection like Christmas in Russia, Alfred Reed Live, Vol 2: Russian Christmas Music, or Kremlin Christmas.
Russian Heritage Through Music
Listening to these songs is a great way to recapture memories, discover your Russian heritage or simply expand your world knowledge. Music is truly a universal language and allows you to connect with another culture.