12 Thoughtful Christmas Gift Ideas for Teachers
Décor Presents for Educators
Christmas gifts for teachers are a great way to thank educators for all they do. However, finding a gift that's unique and affordable can be a challenge.
One option is to give a teacher an item to use througout the holiday season in his or her home. A berry wreath is simple enough to fit into any decoration scheme.
Wisdom by Willow Tree
Buy Now"
Willow Tree figurines make great gifts for anyone on your list. This figure features someone reading a book and is entitled "Wisdom," making it perfect for a teacher.
Teacher Keyring
Buy Now"
If you're looking for an inexpensive Christmas gift for teachers, you can't go wrong with this teacher keyring that features the iconic apple symbol, giving teachers an A+ grade. It is also a functional gift, allowing teachers to easily keep track of their school keys.
Teacher Tote Bag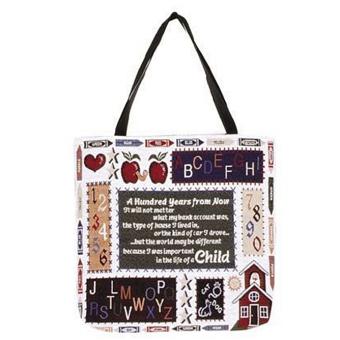 Buy Now"
Teachers frequently carry home papers, so a tote bag makes a gift that's both thoughtful and practical. This pretty bag features bold teacher-themed artwork and an inspirational quote.
Teacher Bracelet
Buy Now"
An elegant silver bracelet makes a great gift for your favorite teacher. This bangle style silver plated bracelet features the "Teacher's Prayer," and is very reasonably priced.
Chicken Soup for the Teacher's Soul
Buy Now"
A book is always a good choice for someone in the teaching profession. Teachers can relate to the many heartfelt stories included in this book.
Poinsettia Plants
Poinsettias are traditional Christmas plants and make lovely gifts for any teacher. They can be displayed first in the classroom and then at home over the holiday break.
Teacher Reward Kit
Buy Now"
Help your favorite teacher replenish his or her classroom supplies. Elementary teachers go through lots of stickers and reward certificates, so this kit is a very handy gift.
Teacher Travel Mug
Buy Now"
Any teacher will love a decorative travel mug to hold her favorite beverage. This mug is reasonably priced and reminds teachers that they hold a special place in children's hearts.
Apple Christmas Ornament
Buy Now"
Teachers will appreciate hanging this whimsical ornament on their Christmas tree. It features an apple and star perched on shimmering red letters that spell "teacher." It's an inexpensive way to thank a teacher at any grade level.
Movie Gift Basket
Buy Now"
When you add a couple of movie tickets or rental certificates to this movie-themed bucket, which includes popcorn and candy, you have an awesome teacher's gift. It is a great way to help teachers relax over their winter break.
Handmade Soap
Homemade gifts are appreciated because of the thought and effort put into them. Handmade soaps make lovely gifts for female teachers and are easily made from common household ingredients. For an extra special gift, include the soaps as part of a spa basket that includes other pampering products such as body lotion, a loofah, and homemade bath salts.
Homemade Cookies
Teachers are busy during the Christmas season and may not have time for holiday baking. As a result, a gift of homemade cookies is sure to be appreciated. Create a variety of Christmas cookies and present them in a festive tin or gift box.
It's nice to acknowledge a teacher's hard work with a special Christmas gift. They will appreciate any gift, whether you choose to purchase something or present them with something homemade.