Romantic Dinner Together
His favorite meal is always a romantic gift choice, whether you make his favorites at home or treat him to a night on the town. Pick his favorite restaurant and take care of the tab by purchasing a gift certificate or informing the waiter that you will be paying for the meal.
Engraved Watch or Ring
An engraved pocket watch or ring is a great way to show how much you care. Have his initials monogrammed into the item or a phrase like together forever or love always.
Love Coupons
Light the kitchen, bedroom or living room with candles and present him with a set of homemade love coupons. Make sure they are ones that he will appreciate; you could even slide a few fun yet romantic ones in, like one night of watching the game uninterrupted.
Massage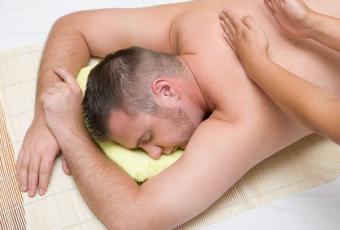 Men love to be pampered as much as women, so a massage may be the perfect gift for him. You can send him solo to de-stress or book a couples' massage for a relaxing day together.
Favorite Wine or Liquor
Appeal to his senses by purchasing his favorite wine or liquor. Choose a holiday or limited-edition bottle so he can enjoy it long after the alcohol is gone.
Framed Photograph
A playful but tasteful framed photograph is a romantic gift to give to the man who works long hours or travels frequently. Choose a tasteful pose that is romantic and not too risque when choosing the photo, just in case he takes it in his luggage and it gets lost.
Lessons for Two
Lessons for two are fun and romantic for any couple. Whether you get him dance lessons or cooking lessons, anything the two of you do together is a romantic Christmas gift for men. Even golf lessons are romantic if it's something he really wants to do but knows it's not your first choice.
Weekend Getaway
Plan the ultimate romantic holiday gift by scheduling a romantic weekend getaway. Whether you visit a bed and breakfast, hit the beach, or go skiing on the slopes, this luxury Christmas present is sure to please him. Check destinations he's always wanted to visit for the best surprise.
Sports Game Tickets
Tickets to see his favorite team in action may not seem romantic at first thought, but he'll be so grateful it's sure to set off sparks. You can easily purchase tickets online or at your local box office.
Sexy Lingerie for Two
Put your man in a romantic mood by presenting him with a gift of his and her lingerie. While he'll appreciate a pair of silk boxers for himself, the romance will really intensify when he sees you wearing something sexy. Add some excitement to the gift giving by donning your portion of the gift before giving him his half!
Shaving Set
Buy Now
A smooth shave can help set the scene for romance. Present your man with a high quality shave set that includes a shave brush, razor, and nourishing scented shave soap. Better yet, scatter a few lighted candles around the bathroom and offer to give him a romantic shave yourself.
Personalized Money Clip
More Details
A silver or stainless steel money clip personalized with a romantic private message makes a nice gift. It also adds a touch of luxury to any man's pocket.
If your man isn't the romantic type, consider picking up a top Christmas present for him that is sure to please almost anyone.