Unique Decorations Make Christmas Special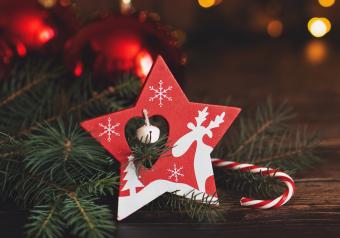 Unusual Christmas decorations found in pictures can inspire you to recreate them or create your own unique decorations. Christmas is a great time for family decorating projects to get everyone in the holiday spirit.
A Tree of Rings
This stylized DIY Christmas tree is a one-of-a-kind that captures a shared mother and daughter moment. You can make your own using plastic rings, painted, glued together with the final touches of small decorations.
Hoop and Tinsel Christmas Tree
If you have metal or wood crafting skills, you can create your own Christmas tree display made of descending sizes of hoops covered with tinsel. Attach the hoops to a wood or metal pole, secured in a wooden block. Add ornament balls, colorful ribbon streamers and beaded garlands. Don't forget the star tree topper! You can substitute PVC for the wood or metal.
Repurposed Corrugated Box
You can fulfill your eco-duty by first disassembling a corrugated box, painting it green and then cutting it into 4" strips. Roll up each strip and secure with a line of glue. You can glue the rolls together in the shape of a Christmas tree. Add a red raffia bow for a final touch!
Upside Down Jar Christmas Tree
You can commandeer a glass jar and turn it upside down to create this fun Christmas miniature tree display. A rough wood circle can be stained or painted. Add a bottle brush tree with fairy lights and you have a nice table centerpiece. You can add miniature presents or faux snow spread underneath the tree.
Wooden Star Display
Cutout wooden stars like these can be decorated with anything you wish. Drape beaded necklaces and sparkling pins or glue faux jewels onto the stars. You may decide to use your creative talents and paint a winter scene or decoupage a family Christmas portrait.
Ladder Christmas Tree
A makeshift Christmas tree is created using an ordinary house ladder. String some patio lights or other type of lighting to give a garland effect. You can add tinsel and ornaments to decorate your ladder Christmas tree. A star-shaped pillow fits nicely on top.
Unique Painted Terrarium Globe Ornaments
You can recreate these fun Christmas tree ornaments by painting plastic terrarium globes. Add plastic Christmas trees, painted the same color or opt to paint bottle brush trees for a more natural tree look. You may decide to add a few tiny ornaments to each tree.
Chalkboard Ornaments
This clever idea is easy to duplicate. Paint ornament balls with chalkboard paint and then draw various designs using chalk. You can always choose different colors of chalkboard paint for a more festive look. This makes a great Saturday afternoon family Christmas project.
Woodworker's Delight!
If you enjoy woodworking, try your hand at making a few wood Christmas tree ornaments. Draw a Christmas tree onto a piece of thin wood. Cut it out and use as a template for more Christmas tree ornaments.
Repurpose Candle Jar Wintry Vignette
Repurpose a glass candle jar to create a fun wintry scene. You can use crafting fake snow or confectioner's sugar for a bed of snow. Add a decorated star shaped cookie, a carved wooden deer and a pair of Christmas trees. Top with red berries and you have an instant Christmas vignette to use as a mantel decoration or table centerpiece. You can sift powdered sugar over the trees for a more authentic winter look.
Rustic Charm
This vignette plays up the shabby chic decor by adding a bundle of moss-cover twigs on top of the mirror. Different ornaments are suspended from the outstretched limbs via cords and ribbons for a unique display.
DIY Paper Star
Break out your craft scissors and start cutting out a paper star. You can make paper stars in different sizes. Make sure you create one for a tree topper to complete this fun Christmas tree design.
Frogs on a Yule Log
In the tradition of the beloved yule log, these three grumpy frogs sport their Christmas hats in an effort to get into the holiday spirit. Use this Christmas decoration any place you wish to inspire laughter and good humor.
Gingerbread Rudolph
Forget the gingerbread house this year and opt for a gingerbread Rudolph. You'll want to bake a square base, and a reindeer shape and antlers out of gingerbread. Make the legs from four bread sticks. Glue together using the same icing you'd use for a gingerbread house. Decorate with candies and sprinkles and don't forget the red nose. Display on the kitchen table or on the living room coffee table.
String It Up
Don't just make a popcorn garland string, mix it up with nature. Make an amazing Christmas garland by stringing berries, cinnamon sticks, different sizes of pinecones, and stick bundles. This garland is a great addition to any country, rustic or shabby chic Christmas décors.
Inspiring Pictures of Unusual Christmas Decorations
Whether you opt to buy or make unique and unusual Christmas decorations, pictures can inspire you to come up with your own creations. Be sure you take lots of photos for your Christmas scrapbook or photo album.