From trimming the Christmas tree to sending holiday cards, Victorians introduced a variety of Christmas traditions people still practice today. Prior to the Victorian era, which began in 1837 and ended in 1901, people didn't celebrate the holidays in a significant way. That all changed in the 19th century when Victorian Christmas traditions like widespread gift-giving, Christmas trees, holiday crackers, and Christmas cards became a major part of the holiday celebrations. Many of these customs still exist today, but you may be surprised by some of the strange traditions that have gone by the wayside.
Traditional Victorian Christmas Activities
Most of the holiday customs that became popular during the Victorian era were started or popularized by the England's Queen Victoria and Prince Albert. The couple enjoyed the holiday season with a variety of activities and games, and these became wildly popular in Europe and North America.
Giving Christmas Gifts
Although people gave holiday gifts prior to the Victorian era, the gift-giving was usually centered around the New Year celebration. According to English Heritage, the Victorian popularized the tradition of giving Christmas gifts. Advancements in manufacturing during the Industrial Revolution made buying gifts more affordable, and the royal couple set the trend by giving one another beautiful gifts of art and jewelry. Victoria and Albert also gave thank-you gifts to their staff, including clothing, toys, books, and food. Less affluent families gave small gifts that were often handmade.
Sending Christmas Cards
Christmas cards became a holiday tradition during the Victorian era. According to the Victoria and Albert Museum (V&A), Sir Henry Cole, the first V&A director, introduced Christmas cards in 1843. He commissioned a special holiday card that year, which he sent to friends and family and sold to other people. Queen Victoria's children loved these cards and began to make their own to give to friends. Soon, mechanical advancement in printing that were part of the Industrial Revolution made it possible for anyone to buy and send Christmas cards. By the end of the 19th century, sending holiday cards was a major part of Christmas.
Sharing Christmas Crackers
Christmas crackers, those colorful twisted paper packages that make a distinctive "pop" when opened, are another important Victorian Christmas tradition. The V&A reports that Tom Smith, owner of a confectionary shop in England, invented the Christmas cracker in the 1840s and added the classic "pop" in 1860. These crackers, which you can still find today and incorporate into your own holiday celebration, usually include sweet treats, little toys, paper crowns, jokes, and fortunes.
Classic Victorian Christmas Food
Food was an important part of the Christmas celebration for people during the Victorian era, just as it is for many families today. Several of the traditional Victorian Christmas foods are still part of holiday meals.
Traditional Christmas Turkey
The BBC reports that the tradition of eating a turkey for Christmas dinner dates back to the Victorian era. Prior to the 19th century, Christmas dinner usually consisted of beef or sometimes a roasted goose, but the turkey became popular during the Victorian era, especially in upper-class households. Since turkeys were not especially large or expensive, their popularity as the centerpiece of Christmas dinner spread to the middle class. By the 20th century, turkey was the traditional main dish at Christmas.
Plum Pudding
Queen Victoria and her family often enjoyed a plum pudding as part of the Christmas meal, according to English Heritage. Although the name indicates it contained plums, this type of pudding was actually made of raisins and other dried fruits. You can use a fruit pudding recipe to make your own plum pudding for the holidays, but traditional versions took up to eight hours to cook.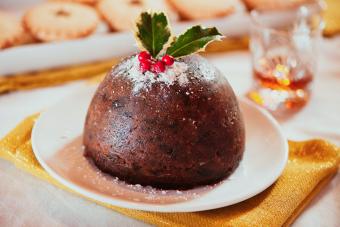 Raw Oysters or Oyster Soup
Oysters were part of many Victorian Christmas meals, and raw oysters are listed on the menu for an 1890 Christmas dinner. While only those who lived near the ocean could easily get fresh raw oysters, many families also enjoyed oyster soup using canned oysters. You can make oyster soup today or order raw oysters from your seafood counter if you want to incorporate this Victorian custom into your holiday celebration.
Traditional Victorian Christmas Decorations
The Victorians knew how to decorate for the holidays, and many Victorian Christmas decorations are still popular in today's homes during the holiday season. There are a couple of other important holiday decorations contributions the Victorians made.
Christmas Tree
Credit for popularizing the Christmas tree goes to Queen Victoria and Prince Albert, according to V&A. Albert hailed from Germany where Christmas trees were a tradition, and he brought the custom with him when he married Victoria. They had a family tree with small gifts and sweets hanging from the branches, and images of the royal family with their tree were published in many periodicals. This started a trend that continues to this day.
Mistletoe Kissing Balls
Kissing balls or spherical arrangements of mistletoe and other greenery were all the rage during the Victorian era, according to BBC Two. People hung the balls in doorways, and it was customary to steal a kiss if someone was caught beneath the ball. You still see these in modern Christmas decorations, and you can make your own by using a spherical foam floral base from your craft store and artificial mistletoe.
Strange Victorian Christmas Traditions
Some Victorian Christmas customs haven't stood the test of time. When you hear about these, you'll understand why.
Snapdragon, the Flaming Victorian Christmas Game
Prior to the invention of the radio and television, parlor games were a huge source of entertainment. Victorian Era reports that during the Christmas holidays, people would get together on Christmas Eve to play Snapdragon. This game involved placing 24 raisins in a bowl and pouring a bottle brandy over the top, causing the raisins to float. Then someone would strike a match and light the brandy on fire. Participants would need to reach into the flames, retrieve a raisin, and eat it to extinguish the flames.
Creepy or Disturbing Christmas Cards
Sure, Victorians sent plenty of cheerful and beautiful Christmas cards with images of Santa, winter scenes, and romance. However, there was also a major trend that involved sending creepy and disturbing cards. According to the History Channel, these often featured images of dead birds, insects, frogs, and even the Devil. These cards seem especially odd to people today, but they may simply have represented the culture of the time.
Science Lectures at Christmas
The Victorians also enjoyed attending magic shows and science lectures during the holidays. These events, famously put on by the Royal Polytechnic Institution and other organizations, often involved magical ghosts and apparitions and a lecture that followed and explained the science behind the happening. Attending a science lecture for the holidays may seem strange to people today, but these were also entertainment events that the whole family could enjoy.
Creating Your Own Victorian Christmas
You can embrace this exciting time in history by incorporating Victorian Christmas decorations, festive foods, and fun activities into your own Christmas traditions. The holidays are a time for nostalgia, and these old-fashioned traditions will always have a place in modern holiday celebrations.