Finding Winnie the Pooh Christmas Decorations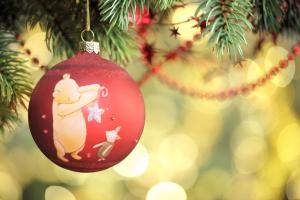 Families who love Winnie the Pooh can find an abundance of Christmas decorations. Tree ornaments and figurines featuring the fuzzy, cuddly bear and his friends can be found online and in many retail stores. Whether you're starting a new collection, adding to your classic Pooh figures, or just want to accent your home with the friendly bear and his friends, you're sure to find something celebration-worthy.
Pooh and Friends Tree Ornaments
Make your Christmas tree Pooh-themed by choosing ornaments that relate to Pooh or any of his friends, including Piglet, Tigger, Owl, Kanga, Roo, or Rabbit. You can choose classic Pooh ornaments, contemporary Pooh character ornaments, or a mixture of both. Some to consider include:
Disney 50th Anniversary Ornament: If you've been a Pooh fan all your life, this ornament is a must-have. It celebrates 50 years of Winnie the Pooh and his favorite honey tree. The ornament features animation and plays, "Little Black Rain Cloud." It costs about $30 plus shipping.
Baby's First Christmas: Give the new bundle of joy in your life a Baby's 1st Christmas ornament, then add to their collection each year. This ornament is a sweet mobile featuring Pooh and all his friends from the Hundred Acre Wood. It costs around $18 plus shipping.
Sledding Fun with Pooh: This ornament combines the elegance of Lenox porcelain with the whimsy of Winnie the Pooh. It's a joyful likeness of Pooh enjoying a sled ride. It costs around $30. Bed Bath & Beyond will ship the ornament for free.
Swarovski Crystals Pooh Ornament: Add serious bling to your Christmas tree with this ornament that's made entirely of clear and colored Swarovski crystals. It's not meant for children under 15. The ornament isn't cheap; it costs almost $200 plus shipping, but it's the ultimate ornament for any Pooh fan.
Indoor Pooh Decorations
You can find more than just Christmas ornaments in your favorite Pooh characters. Several other indoor Pooh figurines and decorations can add cheer to your décor and help complete your Pooh-themed Christmas. Here are some indoor decorating options:
Jim Shore Tigger with Snowman Figurine: Let Tigger bounce and pounce his way into your heart with this figurine. The figurine depicts Tigger on top of a snowman decked out in a pastel quilt pattern. It costs about $55 with free shipping on Amazon.
Department 56 Merry Christmas Pooh: Made of resin, this large figurine features Pooh as Santa Claus and Piglet as a reindeer. Pooh sits inside a sleigh filled with gifts. Two bottle-brush trees complete the scene. Own this figurine for about $43 plus shipping from Amazon.
Tigger and Pooh Stockings: Show your love for Pooh and his friends with stockings. Choose a set of two from Houzz with Tigger and Pooh on the top of the stocking and bright red foot. The stocking pair costs about $10 or so.
Pooh and Piglet with Snowman Music Box Globe: Pick up a delightful snow globe by Precious Moments that plays We Wish You a Merry Christmas. Images featured are Pooh, Piglet and friends building a snowman. The globe costs less than $70 from Wayfair.
More Pooh Decoration Suggestions
Another option to add Pooh-ness to your holiday décor is to include other items familiar to the memorable characters, even if they aren't typical holiday decorations.
Winnie the Pooh pillows are easy to find and can be trimmed with holiday ribbon.
A classic honey pot is a perfect Pooh icon and you can add a bow to this item, too.
Place a plush Eeyore under your tree to welcome Santa.
If you own the Pooh classic Christmas Treasury book, including it with a holiday library gives you many decorative options outside standard holiday items.
Shop at Disney for Holiday Decorations
If you or someone you know is planning a trip to either of the Disney theme parks or a Disney cruise, have them pick up Pooh Christmas decorations for you. Not only will the park souvenir shops have Christmas items available during the holiday season and a limited selection all year long, but you can also find stores dedicated to Christmas in the area.
Many shopping malls have a Disney Store. During the Christmas season, check for holiday Pooh decorations such as ornaments and plush characters.
Make Christmas Memories With Winnie the Pooh
Winnie the Pooh and all his friends from the Hundred Acre Wood have been around for generations. Most people have at least one Pooh-related childhood memory. By incorporating Winnie the Pooh decorations into your Christmas décor, you'll bring smiles to your family and friends. You'll also create cherished decorating traditions that will last a lifetime.