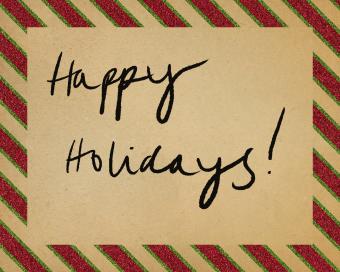 Festively decorated papers will add cheer to your holiday season correspondence, whether you plan to mail a note to a friend or include it with a special gift. Christmas-writing paper is also fun to use for gift lists and to-do lists and can even be used to copy holiday recipes onto. Download and print several of these designs to match all of your holiday writing needs.
Printable Christmas Writing Paper
Select the stationery you wish to use. Choose the garland and ornaments option for a family letter or more formal notes to teachers, church members, or neighbors. The cute reindeer and bells paper choice is a fun option for kids to use. This is also an excellent stationary choice should you use the holidays to create a family letter highlighting your children and their recent accomplishments.
To download and use the stationary, you'll need Adobe Reader.
If you want to use the stationery for a type-written letter, allow the ink on the paper to dry as you write your letter and adjust your word processing program's margins. Next, feed the stationery back into the printer according to your printer's settings and print. Make sure to print one page as a test to make sure you loaded the stationery properly.
If you want to use the Christmas writing paper for a handwritten note, wait for the ink on the border to dry and then compose your letter in the blank space. Consider placing a sheet of paper with dark lines behind your stationery so that it is easier to keep written lines straight.
Additional Holiday Writing Paper Options
If these papers aren't your style, you can find additional writing papers online. Most free papers are okay to use for non-commercial purposes.
Christmas Correspondence
The Christmas writing paper you choose will help make your seasonal notes, letters, and lists a little more jolly this holiday. Look for one you find appealing and get writing!