Tips and Tricks for Buying the Perfect Artificial Christmas Tree
There are few tips and a couple of tricks that can help you buy the perfect artificial Christmas tree. Some things you'll want to consider are size, material, style, warranties, storage and other details.
Deciding on the Right Size
Assess where you want to set-up the Christmas tree. Break out a tape measure and find the height and width.
What Height Is the Ceiling?
If you don't know how high your ceiling is, it's time for another measurement. If the room where you plan to set-up your artificial Christmas tree has high ceilings, you may decide to splurge on a tall tree.
Standard Heights
According to Balsam Hill, artificial Christmas trees have standard heights. The company offers a helpful guideline for determining the perfect artificial Christmas tree height for your home.
Tabletop trees: Under 6' high, this is a good choice for a tabletop, especially if you live in a small space.
Apartment size: 6' to 6.5 range is ideal for an apartment or small condo.
Average home: 7' to 7'5" trees are the most popular heights sold for average homes.
Larger homes: 9' trees are often selected for homes with high ceilings.
Two-story ceiling heights: Homes with two-story open ceilings can accommodate 10' to 15' trees.
Tree Toppers and Tree Height
Just because you have an 8' ceiling doesn't mean you want to purchase an 8' tall artificial Christmas tree.
If you have an existing topper, such as an angel or star, then measure its height and subtract from the ceiling height to get the maximum tree height you can use.
As a standard, allow at least 10" to 12" for a topper.
For aesthetics, leave at least an inch between the topper and ceiling.
Tree Width
Once you know how tall of a tree can be accommodated, assess how wide your tree can be. The widths available include, full, slim, narrow and flatback (great for corners).
Add three to six inches to your measurement so the tree won't appear crammed into the space.
The more space you have around the tree or on each side, the easier it will be to decorate and place presents underneath.
Most companies provide the actual width of the tree. Be sure to check if it'll fit in your space.
Type of Tree and Materials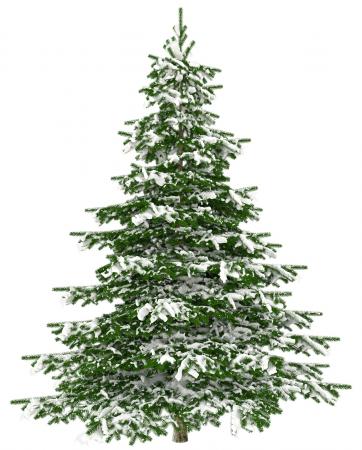 Now that you know what height and width you need for your artificial Christmas tree, you can select the type and style.
Tree Species
Each company has specific designs. Some are even trademarked. The choices for tree species include:
Fir: The lower branches are wide and turned down with soft flat needles.
Spruce: The branches grow upturned. The needles are short, stiff and square.
Pine: The branches turn upward. The needles grow in clusters radiating from one point. White pines have five needle clusters while red pines have two.
PE or PVC Material
National Tree Company explains that PE (Polyethylene) trees are realistic since they're molded from actual tree branches. The PE is also combined with PVC (Polyvinyl chloride) for a more realistic look. Not all companies use this technique. PE provides a thick, realistic appearance. PVC gives a flat look to the limbs and usually costs less than PE.
Popular Styles
Another consideration is the style of tree you like best.
Green: A green tree is the most natural looking design.
Flocked: The branches appear to be covered in snow. The amount of snow varies.
Other styles include:
Tinsel/aluminum: Popular in the 1960s, the tinsel tree has enjoyed a nostalgic comeback. The shiny needles reflect all light especially the tree lights.
Feather: Some feather trees feature real feathers, such as goose while others are made of synthetic feathers. These come in all colors and a few feature glittered feathers. Most of these are tabletop heights, usually no more than 30" high.
Tree Density
You can assess the density of an artificial Christmas tree by the branch tips and tip count.
Branch Tip
Branch tips feature small forked tips that give a higher tip count. If a tree doesn't have forked tips, the tip count is lower. While the branch tips in this case are larger, the density is less than forked tips.
Tip Count
The higher the tip count, the fuller the tree and the more ornaments it'll support. Commercial Christmas Decorations recommends specific tip counts for the best look based on tree height.
6'5": Best tip counts are 800 to 900.
7'5": Aim for 1200 to 1500 tip counts.
9'5": Look for tip counts from 2000 to 3000.
12': A good tip count is from 3500 to 5000.
Hinged or Hooked Branches
The two types of branch construction include hinged and hooked. Consumer Reports advises that if you're looking to save money, hooked branches cost less.
Hinged branches are permanently fixed to the center pole of the tree and unfold to full size. Most come in three removable sections.
Hooked branches must be hooked into the center pole and removed when taking down the tree.
Storage Considerations
Trees with hooked branches will need enough storage space for the disassembled parts, typically a rectangle storage bag or bin. Hinged folding trees are very compact and easier to store. Some fit neatly in circular or oblong bags.
Pre-Lit or Plain
The final decision you need to make before striking out on a shopping trip is whether you want the lights already installed or if you plan to add your own lights. You can opt for white or colored lights. Some trees come with color change options (especially prominent in fiber optic trees). Pay attention to how many lights are included with a pre-lit tree to be sure you are satisfied with the lighting. If you are buying lights, it's recommend that a Christmas tree should have 300 lights for every foot of height.
LED vs. Incandescent
There are a couple of differences in LED and incandescent lights beyond LED lights burning cooler. According to Commercial Christmas Decorations, the advantage of incandescent lights is the strand will continue to light even when bulbs burn out. While LED bulbs don't burn out, they dim over their lifespan. If a bulb is removed and not replaced, the strand won't work.
Before You Buy
A few companies, like Balsam Hill, offer a sample kit you can purchase for a nominal fee. The kit contains end branches of each type of tree the company sells. There are also a few other things to consider before making a purchase.
Warranties
Some companies offer warranties on the foliage, such as 5-year or 10-year warranties. Lights often come with separate warranties, such as a 3-year warranty for pre-lit trees.
Tree Stands
Artificial Christmas trees come with self-incorporated stands. Metal stands are sturdier than plastic ones. Some tree stands have a scratch-resistant finish which will keep the stand looking new longer. Before you buy, check if the stand has rubber feet to prevent slipping and to keep from scratching floors.
Best Time to Buy
There are a few times during the year when you can luck up on some good deals for Artificial Christmas trees. Sign up for email lists to receive notice of sales. Off season is a great time to buy for discounted prices, though some companies mark down inventory mid-December and January. You can also find great savings during Black Friday and some special purchase sales.
How to Buy the Perfect Christmas Tree
By taking time to understand what you can expect when purchasing an artificial Christmas tree, you can take advantage of tips and tricks. This knowledge ensures you'll end up with a tree your family will enjoy for many Christmas seasons.