Creative Wrapping Ideas for Anyone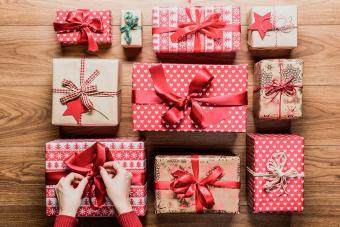 Christmas is a time for gift giving. You spend a lot of time and put a lot of thought into choosing the perfect gifts for your loved ones, so it makes sense that you would want your gifts to stand out in a crowd. A beautiful gift needs a creative package, right? Turn your gifts into visual masterpieces with the following unique DIY Christmas wrapping ideas.
Cookie Cutter Tag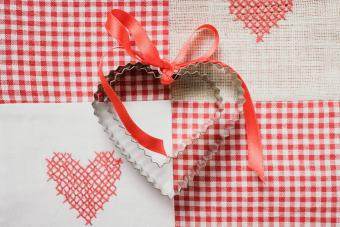 Does your family love to make Christmas cookies? One way to make your gift unique is by adding a cookie cutter tag. To create a cookie-cutter tag, you need to get a Christmas cookie cutter, sharpie, and ribbon.
Wrap your gift in Christmas paper and add a ribbon.
Slide the cookie cutter onto the ribbon.
Tie a beautiful bow.
Write the recipient's name in Sharpie.
Smile at your beautiful creation.
Chalkboard Wrapping Paper
Do you want to put a totally original spin on your Christmas presents? Try making them look like a chalkboard. The chalkboard craze has been going strong for several years and shows no sign of fizzling out. And it's super easy to do. To get started you need black wrapping paper and a white marker.
Wrap the presents in black wrapping paper.
Use the white marker to add customized Christmas messages.

You might also consider writing "Merry Christmas" or another message. Add images like holly berries or snowflakes, if desired.
You can also buy chalkboard wrapping paper and use real chalk for your gifts. However, this could rub off unless you use chalkboard pens.
Wildlife Gift Wrap
Rather than using gift tags, you can create printouts of each person's favorite animal or Christmas character. To create this DIY Christmas wrap look you need wrapping paper, bows, and printouts.
Choose a character for each gift and create printouts.
Wrap the gift in traditional Christmas paper or plain brown or white paper.
Cut out your characters and use the tape to adhere it to the present.
Use bows to make it fancy.
If you want to go overboard, you might consider cutting out snowflakes and Christmas trees and adding them to the packages too.
Lego Gift Wrap
Do you have any major LEGO fans on your gift list? Wrap their new LEGO set in a fun, themed gift wrap.
To create this look, wrap your gift in a solid-colored paper. Red is a good choice for a Christmas gift, but other LEGO colors such as blue or yellow could also work well.
Cut a round foam pool noodle into 2-inch sections. You will need to cut six pieces.
Wrap the noodles in the paper that matches the wrapped gift.
Use a hot glue gun to attach the circular pieces to the gift so that it resembles a LEGO brick.
If you find that the wrapping paper you are using won't cover the round pool noodles effectively, try using a colored plastic tablecloth.
Melted Crayon Wrapping Paper
Wrapping paper doesn't have to be boring! You can get artistic with it. Create your own beautiful wrapping paper with simple items such as brown craft paper and crayon shavings.
Use a cheese grater to shave small pieces of colorful crayons onto a piece of brown craft paper to create this look.
Place a piece of wax paper above and underneath the paper before you use an iron, on the lowest setting, to melt the wax. Do not move the iron in a circular motion, or you will run the risk of ripping the paper. The crayons should melt almost immediately.
Use red, green, and white crayons for a "Christmasy" look, or use multiple colors to achieve another aesthetic. You can use tissue paper instead of brown craft paper for a different look.
For safety reasons, this project should be done by adults.
Paper Poinsettia
For a simple, yet crafty way to make your present unique, you can create a paper poinsettia name tag. For this, you just need paper in gold and red colors and tape.
Use a simple poinsettia pattern to create three flowers. Each flower should be slightly smaller than the first. The largest should be red, the middle should be gold, and the smallest should be red.
Stack these starting with the largest to smallest.
Tape them together.
Write the name of your recipient in the center of the poinsettia.
Attach it to some ribbon to create a centerpiece on your present.
If you want to get super fancy, then you might cut some leaves out of green paper to add to the adornment.
Ruldolph Present
Surprise the recipient by wrapping their gift using their favorite Christmas character! You just need some brown paper, a red ball, and creativity to create your Rudolph present.
Wrap the present in brown paper.
Use a sharpie to draw some antlers and eyes.
Attach the red ball with some tape for the nose.
If you have kids, you might have them dip their hands in some brown paint to create the antlers, and cut out two brown paper ears.
Paint Splatter Paper
Create a masterpiece similar to a beautiful Jackson Pollock art piece to wrap your gift in.
Lay a piece of large paper, such as butcher paper or plain wrapping paper, on the ground. It is best to do this project outdoors or with a tarp laid down beneath the paper.
Dip a paintbrush into acrylic paint and splatter it onto the paper. Use a contrasting color for the best effect. White or silver paint on black paper creates a dramatic look.
After you have achieved the desired look, allow the paint to dry.
This gift wrap is an easy project even kids can do; and it's sophisticated enough to use for your most elegant gift.
Sheet Music Wrapping Paper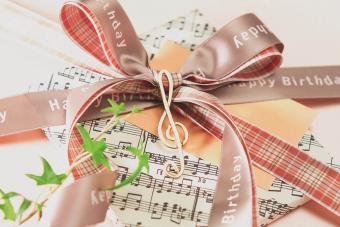 Is one of your gift recipients musically inclined? Then make them sing by wrapping their present in sheet music. Creating this gift-wrapping idea is a snap.
Print out some sheet music from their favorite song.
Wrap the present.
Add a bow and a beautiful red bell.
Doily Lace Gift Wrap
This wrap gives a Victorian look a modern update. Use doilies to create a lacy look that replicates the look of snowflakes.
Wrap your gift in brown craft paper or another plain paper.
Buy paper doilies from a party or dollar store.
Cut the centers of the doilies out or create another shape.
Glue the doilies onto the package.
For best results, wrap the doilies around the corners of the package. Place them diagonally before you glue them down, to be sure they are spaced evenly.
Painted Hand Print Paper
Wrap gifts in a memorable keepsake such as this delightful handprint paper. This idea is great for parents and grandparents.
Use a large piece of paper to create the wrap.
Dip hands into a shallow pan of tempera paint.
Press the hands onto the paper.
Repeat the process to create a pattern.
Allow the print to dry and wrap the gift.
You can even take this a step further to use their red and brown handprints to create Santas and Ruldolphs by using a sharpie to add faces.
Masterfully Wrapped Gifts
These clever and festive ideas make your gifts look amazing. If you're not the perfect present wrapper, don't despair. Follow an easy guide for wrapping Christmas presents and you'll have gorgeous gifts in no time! Creative DIY Christmas gift wrap ideas will make your present the life of the party.