Find the Perfect Present
When the holidays roll around, it's challenging to find the perfect gifts for family and friends. These top 10 holiday gifts include something for everyone on your list and help make sure your presents are the best gifts from Santa.
Best Tech Gift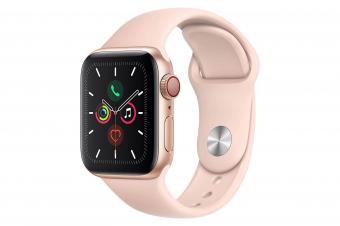 More Details
The Apple Watch Series 5 isn't for everyone, but for those on your gift list who love tech and gadgets, it's a must. Using this unisex watch you can make and receive calls, dictate and send texts, browse apps, and organize daily activities. This latest version has been redesigned from previous versions with various colors and styles ranging in price from $399 to $849. It's listed as one of the best smartwatches by Techradar and PCmag.
Best Entertainment Gift
More Details
Apple TV® is a PC Mag Top 5 pick for media streaming devices, and Wired gives it the title of "Best Interface" on its top list. It lets you stream or rent movies from the iTunes store or Netflix, watch YouTube, stream music, and view family photos. It also enables you to stream content from your iPad, iPhone, or iPod touch to your HD television. The latest version has 4K and 64 gigabytes, and costs approximately $200. There are rumors that Apple may be releasing a new version in the fall of 2019.
Best Gift for Families
More Details
Kids of all ages can play Candy Land and adults love joining them for a bit of nostalgia. This classic board game is still a Top 10 seller on Amazon and in the year 2005, was inducted into the National Toy Hall of Fame. Opt for the Nostalgia Tin version for around $25 to keep with the traditional theme. This version comes in a square tin instead of a cardboard box and features graphics from the 1962 game board.
Best Gaming Gift for Kids
More Details
Kids and adults of all ages can't get enough of the Nintendo Switch, listed by Time as the number seven top toy in 2017. The now iconic blue and red Joy-Cons and console will set you back about $300. Play video games using the console at home on your TV or take it out of the dock and play on the go like any other handheld gaming device. The new Nintendo Switch Lite sells for about $200 and is designed for handheld play only.
A Perfect Gift for Coffee Lovers
Buy Now
Everyone you know has a favorite hot drink, from coffee to hot chocolate. Give the gift of eternal warmth with a Yeti Rambler Mug for just under $25. Choose from stainless steel, white, sea foam green, dark red, or black in this 14-ounce double-wall insulated mug with a lid. Yeti products promise to keep hot items hot or cold items cold for hours without transferring that temperature to your hand or producing sweat on the outside of the cup. Men's Journal lists the mug as one of the Best Gifts Under $50.
A Cook's Gift
Buy Now
Help your friends and family start their own indoor herb garden that requires virtually no work on their part. The Click & Grow Smart Herb Garden is rated the top indoor herb garden by BestProducts.com and For the Smart Home. The sleek planter looks great in any space and is self-monitoring when you plug it in. The automated system can grow herbs, and even some produce like peppers or strawberries, for less than $100. Great Performers Academy says indoor smart herb planting accessories are one of the hottest trends in online sales today.
Gifts of Learning for Young Children
More Details
The Fisher-Price Code 'n Learn Kinderbot is an excellent toy for preschool children that is not only fun to play with but gives the gift of knowledge for around $60. The robot helps children learn the basics of code and encourages interactive play. Toys4Minds calls the Kinderbot one of the best toys for Christmas because of its emphasis on learning and creativity. Reviewers on Amazon give it nearly 5 stars as well.
Best Gift for Grade School Kids
More Details
The Harry Potter Wizard Training Wand won a National Parenting Product Award as a top toy for children. The wands are suitable for children in grade school. They're sure to please Harry Potter fans and possibly make some new ones. The wands come with 11 different "spells" that children can learn and can light up, play sounds and even interact with other wands. This popular toy is also an Amazon's Choice product.
Most Practical Holiday Gift
More Details
Few people in your life won't have a use for this stylish Elago charging hub. You can charge all of your important tech devices like smart phones, watches, air pods and more. It also comes in your choice of black, white, dark grey or jean indigo colors. Cosmopolitan Magazine includes it on their list of Secret Santa gifts under $50 that you might just want to buy for yourself!
A Holiday Gift Women Will Love
More Details
House Beautiful picks the wooden bathtub tray as one of its top gifts for women. This lovely bamboo tray sits atop your bathtub, allowing you to enjoy watching your smartphone or tablet and enjoying a glass of wine while taking a relaxing bubble bath. It's the perfect gift for any woman who wants to enhance her stress-relieving bath rituals.
Choosing the Perfect Holiday Gift
When choosing a holiday gift, it's best to think about the other person's lifestyle and what would bring them joy. For some that will be a practical item that makes their day-to-day life better while others enjoy items of pure indulgence for stress relief or just plain fun. Finding the perfect gift for friends and families can sometimes be a challenge but it's worth it to make each person's holiday brighter.