Christmas Speeches for Church
You can use original free Christmas speeches for your church services and celebrations. Each speech discusses the importance and true meaning of Christmas. You will also find one speech written just for children.
God's Christmas Plan
This original speech may be given during any Christmas church service or celebration. It is an excellent segue into a Christmas program, such as a cantata. This speech discusses why Jesus was born and the plan God had for His son's life and every soul.
Why Jesus Was Born in a Stable
This original speech is suitable for children between the ages of six and ten. It explains the significance of Jesus being born in a lowly stable with a manger for his bed. Children should gain a better understanding of the meaning of Christmas and why Jesus was born into this world. You may use it for a Sunday school class, an introduction or part of a children's nativity play, or preceding the children's choir Christmas performance.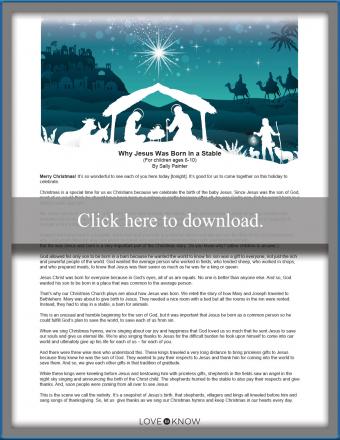 Christmas Hope
This original speech explains how Christmas is a message of hope to the world and the great sacrifice that God and His son Jesus made for every soul. You can give this speech at any Christmas service of the church. It could be the opening for an afternoon or evening cantata, a candlelight Christmas service or the opening speech for a Christmas church play.
Bible Verses As Companions to Speeches
You may want to add appropriate Bible verses as part of your speech or as a Christmas reading to follow your speech. You may decide to quote a line or two from one of these Bible verses in your speech to illustrate a point, such as the prophecy of Jesus's birth or the angel Gabriel's visit to the Virgin Mary.
Christmas Speeches for Church Are Important
A Christmas speech for a church service, Sunday school class or play is an important way to convey the meaning of Christmas. You can also incorporate scripture to reinforce the significance the Christmas story has on modern Christians.